---
Asana Abeyagoonasekera was invited by the International Institute for Strategic Studies (IISS) to attend the 15th Shangri-la Dialogue in Singapore recently.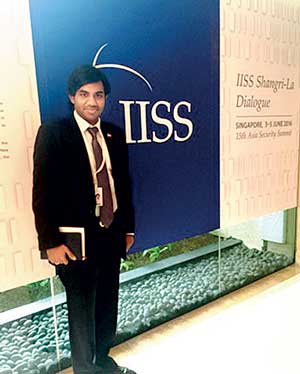 The IISS Asia Security Summit 'The Shangri-La Dialogue' (SLD) is a 'Track One' inter-governmental security forum held annually by an independent think tank, the IISS, which is attended by defence ministers, permanent heads of ministries and military chiefs of Asia-Pacific states.
There were 612 delegates representing ASEAN, Asia, Europe, China and United States at the security summit. While primarily an inter-governmental meeting, the summit is also attended by legislators, academic experts, distinguished journalists and business delegates.
Twenty-one defence ministers and deputy defence ministers participated with over 30 countries represented. More than 40 renowned panellists addressed a range of regional security challenges. The summit served to cultivate a sense of community among the most important policymakers in the defence and security community in the region.
Asanga is a visiting lecturer on International Political Economy, University of London at Royal Institute Colombo.