---
Arden Institute, Sri Lanka's leading school of personal and professional development, has been appointed as the global academic partner of American Hospitality & Lodging Educational Institute (AHLEI) in Sri Lanka.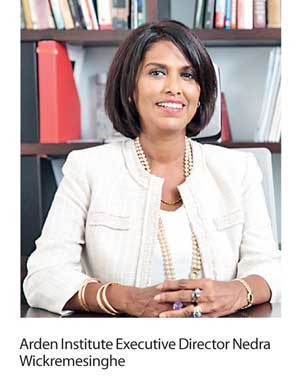 Founded by renowned personality development and professional training guru - Nedra Wickremesinghe, Executive Director, Arden Institute, the school benefits from a wealth of experience of over two decades in the field with clientele that include blue-chip companies, prestigious professional and industry associations and vocational schools. Arden Institute is well poised to offer students a wide array of integrated study and training options to prepare them for a career in the hospitality sector.
Combining AHLEI course and social skills training to reciprocate to the current demand for training hotel staff, Arden Institute offers hospitality education courses and certifications by the prestigious AHLEI, which for over 63 years has provided hospitality education and professional certifications for leading hotel brands, management companies, hospitality schools, universities, convention bureaus and associations around the world. As a global leader in hospitality training and hotel management certifications, AHLEI has continuously produced the world's finest hospitality professionals and is a well-researched, benchmarked and contemporary education provider.
Students of Arden institute after completion of the courses it for AHLEI exams and receive direct certification from AHLEI, as well as the right to wear the prestigious AHLEI lapel pin, singling them out as industry professionals par excellence. Students benefit from integrated training and study courses, sitting for American standard exams developed with direct industry input and insight. Students can explore their interests and work towards their goals, developing and honing essential skills through four course areas namely, front desk, guestroom attendant, restaurant server, and kitchen cook– Arden Institute is the definitive choice.
Guided by a team of highly experienced hospitality industry experts, AHLEI certification offered in Sri Lanka exclusively by Arden Institute ensures highly employable and globally sought-after industry professionals.