---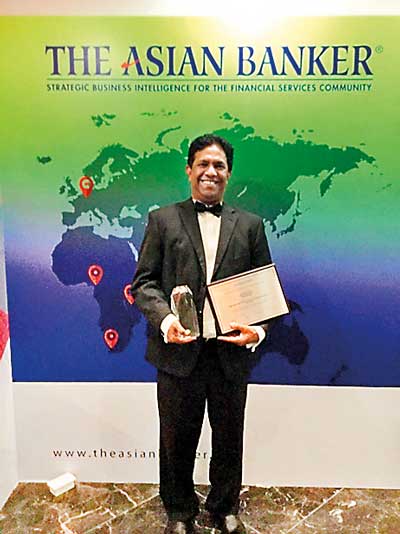 Sampath Bank's Managing Director, Aravinda Perera was honoured with the CEO Leadership Achievement Award 2016 at the Asian Banker Leadership Achievement Award programme held on 10th May, at JW Marriott Hanoi, Vietnam.

Evaluated at a world class level, the CEO Leadership Achievement award recognized Perera for his dedication towardsinculcating true governance, national values and successful strategies into the banking system of Sampath Bank. Furthermore, the award also recognizes the Managing Director of Sampath Bank for his efforts in achieving exceptional bottom line results, implementing successful responses to major challenges and adversities and executing sustainable strategies that resulted in growth above industry level in various business lines.

The CEO Leadership Achievement Award programme is conducted once in three years and is considered one of the most difficult and most exclusive awards for any top banker in the financial services industry to win because of its stringent evaluation process.

"I am truly humbled to not only be recognized with a prestigious accolade but a rare one as well, which is a significant milestone in my career. Whilst this award is a true testament of the Bank's vision to evolve into a business entity on the tenets of time-tested values, quality, customer and nation focused delivery and employee well-being, this award is also a strong depiction of great team effort to constantly push the limits in order to raise the standards of customer experience and offer our customers a wide range of services, whilst also ensuring to be an integral part of the development of the country,"remarked Perera.

Under the leadership of Aravinda Perera, Sampath Bank was recognized as the Most Awarded Bank in the year 2015, with 24 accolades from 14 different institutions/associations, both local and international. Of these 24 awards, Sampath Bank clutched two most critically acclaimed awards for the year 2015 – 'The Banker of the Year Award 'presented by The Banker Magazine of Financial Times, London and 'The Overall Best Corporate Citizen Award' presented by the Ceylon Chamber of Commerce. These awards, together, illustrates Sampath Bank's enormous accomplishments and exceptional performance, proficient skills and abundant knowledge, as well as AravindaPerera's true leadership skills in taking on and overcoming multiple challenges to present the future to its customers and the nation.

The Asian Banker Leadership Achievement Award isa widely acknowledged awarding body in the financial industry, considered the highest possible accolade available to professionals of the financial services industry, as recognized in the Asia Pacific and Gulf regions.

Driven by a stringent evaluation process anchored by a panel of global leaders, experts and advisors, this award programme recognizes institutions and individual excellence that shape and direct the institution itself and the industry it belongs to. The award program holds all of the nominees for the awards against global benchmarks and best practices, whilst the award ceremony is held in conjunction with The Asian Banker Summit, one of the largest gatherings of professionals in the financial services industry in the Asia Pacific region.