---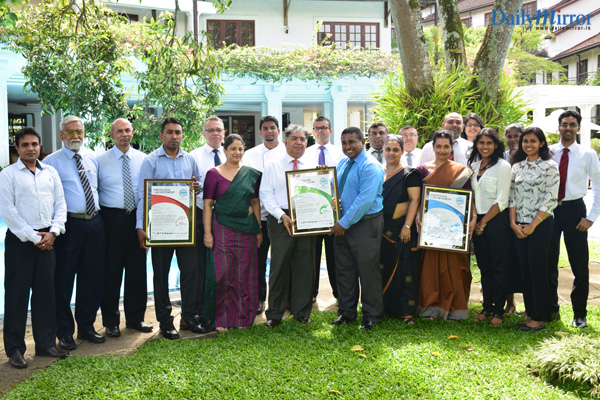 Handover of certificates to MRH Managing Director Mr. Jayantha Panabokke by CCC CEO Sanith de Silva Wijeyeratne with the Senior Management Teams of MRH, CCC and SFG in the background
Mahaweli Reach Hotel (MRH), reputed as the first hotel to achieve 5-star status in Kandy, recently marked another milestone in the Hospitality and Tourism Industry of Sri Lanka by becoming the first hotel to be certified as a CarbonConscious®, WaterConscious® and WasteConscious® Hotel. The certifications were awarded to MRH by The Sustainable Future Group (SFG) – a leading sustainability validation, verification and certification services provider, as a result of the Hotel committing to a long-term programme of measuring, managing, and mitigating their overall environmental footprint.
The Conscious® range is part of a proprietary, diverse range of certifications developed by SFG following internationally accepted standards and protocols to measure, manage and mitigate/enhance key environmental impact areas such as carbon, water, waste and biodiversity. In obtaining the certifications, MRH partnered with The Carbon Consulting Company (CCC) for expert assistance in first identifying specific areas the Hotel should focus on that would be directly alignedwith the business's ustainability and corporate goals. Subsequently, in-depth audits were conducted to assess MRH's impact baseline, and relevant Environmental Data Recording and Monitoring Systems were also implemented. As part of the certification requirements, an internal Sustainability Team was formed to brainstorm ideas and to drive footprint mitigation initiatives whilst tracking progress through comprehensive management plans.
Commenting on their latest achievement, Mr. Jayantha Panabokke, Managing Director of Mahaweli Reach, said, "The efforts of our staff and management team, with the help of The Carbon Consulting Company, have made our vision of becoming a sustainable business entity reality. We can now uphold our founder's vision of providing an unforgettable Sri Lankan holiday experience to our guests, whilst at the same time mitigating our impact on the planet. Our commitment to provide excellence and quality is strengthened as we begin this journey of sustainability and bring Mahaweli Reach and the tourism industry of Sri Lanka into the 21st Century."
Sanith De Silva Wijeyeratne, CEO of CCC, stated, "We're proud to have Mahaweli Reach join the esteemed ranks of sustainable hotels in Sri Lanka, showing that tradition and caring for the environment are not mutually exclusive. Marking a turning point for the tourism industry in Sri Lanka, this new milestone for thisprominent hotel is a testament to the openness ofits management to adapt to pressing global changes and requirements whilst maintaining theintrinsic values of the founders of the Hotel. Their commitment to the community and environment will go a long way in achieving sustainability in the country, bringing Sri Lanka one step closer to achieving a more sustainable future."
MRH is no stranger to sustainability however, with the Hotel organising several initiatives annually. Their activities are focused around five key themes – investing in people; providing additional support to members of staff; educating local youth; preserving the environment; and promoting well-being amongst the community. Special attention has been given to employing sustainable and ethical business practices within the Hotel's operations as well. As a responsible corporate citizen engaged in the hospitality business for over forty years, and having realised the magnitude of influence this industry can have on our society, MRH has prioritised sustainability as a vital component of their business strategy.