---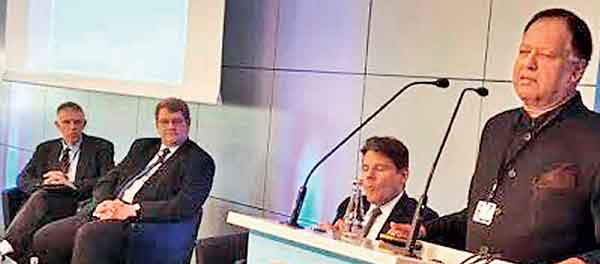 ""By Shabiya Ali Ahlam Stressing the need for assistance to help realize the ambitious goals of the government in taking the local economic landscape to the next level, Special Assignments Minister Dr. Sarath Amunugama during his recent visit to Germany attempted to lure investors by shedding light on the prominent role the nation would play in South Asia in the near future. Pitching Sri Lanka as an investment destination not to be missed, Dr. Amunugama asserted that in the current context, opportunities are many for grabbing with the number of upcoming projects.
"It (Sri Lanka) will be in the next decade a major investment centre in South Asia as we have planned. We have to have buildings, we have to have banks, and we have to have global management. We want to make the new Megapolis of Colombo, a vital centre in South Asia. So we need your assistance," said the minister who was representing President Maithitipala Sirisena at a KPMG Forum in Frankfurt, Germany. Amunugama deliberated at length the objectives of city development in Sri Lanka, with much emphasis on the megapolis development plan, main issues faced by the relevant authorities in this regard, and provided a snapshot of the proposed and on-going large-scale city development and infrastructure development projects. On spelling out the development plans it was stated that the government is "very open" on the "leap frog theory" strategy, which the minister said India has borrowed
According to him, by employing the said strategy Sri Lanka does not have to go through the problems of the industrial revolution and can fast-track development. "We are going to have very open investment policies. We have enacted what are called strategic investment laws where with mega investors we can negotiate the terms and conditions," he said while pointing out that the nation, as the government envisages in the coming years, together with agencies such as the Asian Development and "hopefully" KPMG, would be developed to become a vital financial and trading hub in South Asia.