---
Economist Amila Muthukutti presents a daily economic review called Tharadiya broadcast at 6.40 am on ITN FM on weekdays.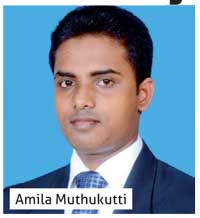 The aim of the programme is to nationalize economics know-how been restricted to English-educated and Colombo-based elite for the general public in simple Sinhala, because financial literacy among the population is very low, stressed Muthukutti.

One can grasp by listening to this radio programme how stock markets, tax, newly introduced economic policies and global economic trends influence not only their lives but also their businesses. Entrepreneurs engaged in SME sector that have no access to the updated information on the economy can get it easily via this programme.

He speaks of new trends in the Colombo Stock Exchange (CSE), giving some tips to the local traders that wish to invest in the market, especially at a time when CSE authorities are planning to make local investors aware of the stock market by launching an aggressive awareness campaign going around the country.

Muthukutti recently appearing on Tharadiya expressed some mixed feelings on the forthcoming budget, pointing out that there is a risk of introducing popular relief measures, because an election is going to be held next year. He has taken it as a platform to moderately analyze government policies and properly communicate to the public. Tharadiyasvcales pros and cons of the economy.