---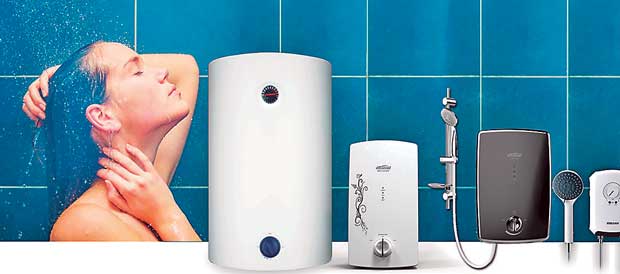 Have you heard about the technologically superior Geysers and Shower heaters available at Abans? Mistral and Stiebel Eltron are internationally acclaimed brands that manufacture some of the most innovative and versatile water heaters in the global market, and they are available in Sri Lanka only at Abans, the home of the World's Best Brands.
Mistral is the trusted Australian brand possessing an arsenal of highly functioning durable water heaters that range from small shower-heaters to large capacity 80L 'tank' heaters. The Instant heaters work immediately providing the user with quick refreshing jets of warm water at the touch of a button.
The Instant heaters are compact in design enabling easy installation in tight spaces and right for smaller bathrooms. The Large Capacity 'Tank' type units are more compatible for bigger or multiple bathrooms and especially in houses with multiple occupants. The large capacity heaters are designed to be energy efficient and are packed with functions like thermometers, thermal cut out and enameled tank to ensure maximum safety. Stiebel Eltron water heaters are made in Germany and are engineered to deliver a torrent of relaxing hot water with every use. Stiebel Eltron Instant heaters are optimized to provide an excellent warm shower in an instant. Premeditated to work in low water pressure areas, which makes them a good choice in places with fluctuating water supplies. Stiebel Eltron's Instant heaters also contain safety utilities such as Anti-Scalding action thermostat plus ELCB to prevent accidental electric shock.
Instant heater units are significantly small which can save space in your bathroom.
Mistral and Stiebel Eltron Water heaters are available in Abans Elite & Abans Showrooms Islandwide.
Units can also be purchased through easy payment terms.