---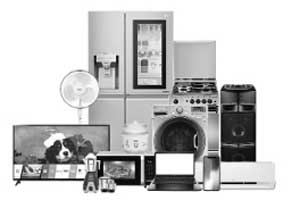 As the first week of December rolls around, we all groan in anticipation of finding the perfect gifts for our family and friends, managing our holiday expenses and dealing with empty wallets after the season is over. So, we often dread the Christmas season, rather than looking forward to it as a joyful time to be spent with our loved ones.

That's why Abans is the perfect place to shop this season. Understanding that budgets and needs can vary, Abans is offering up to 55 percent discounts on globally renowned electronic and home appliance brands. Plus, Abans will provide its loyal customers amazing buyback discounts, interest-free payment instalment schemes, hire purchase options, free gifts and gift vouchers as well as free up to three years extended warranty.

These offers will be available with the purchase of some of Sri Lanka's most popular brands such as LG, Apple, HP, Hoover, Haier, Lenovo and more. You can further choose the ideal gifts for their loved ones and outfit your home with a vast variety of home appliances and electronics ranging from laptops, televisions, mobile phones, audio systems, washing machines, refrigerators, air conditioners, microwave ovens, small kitchen appliances and more.

A true pioneer in introducing reputed international brands to Sri Lanka, Abans will also be unveiling the all-new iPhone X just in time for the Christmas season. The launch will officially take place on December 7 at Colombo Racecourse from midnight onwards. Due to its authorized reseller status, Abans has been able to secure stocks of this highly desired Apple device even though it sold out in just ten minutes at the US grand launch. Abans will be providing attractive credit card offers and hire purchase schemes on the iPhone X as well.

Additionally, Abans will present more flexible payment schemes this season. This includes up to 52 months' interest free on all major credit cards and up to 18 months' zero percent interest instalment through Abans' hire purchase scheme. Hence, you no longer have to worry about going over your set budget for the Christmas season.

Moreover, stunning free gifts and gift vouchers will be offered along with selected brands or products, which will allow you to give more and get more throughout the season.

Abans' several Christmas activities present the perfect opportunity for the whole family to get together. Families can participate in special cookery demonstrations and kids' programmes with games and entertainment. Details of the events will be announced in the newspapers throughout the Christmas season.

So, give yourself another reason to shop more this Christmas season by hurrying to your nearest Abans showroom and snapping up our best offers today.