---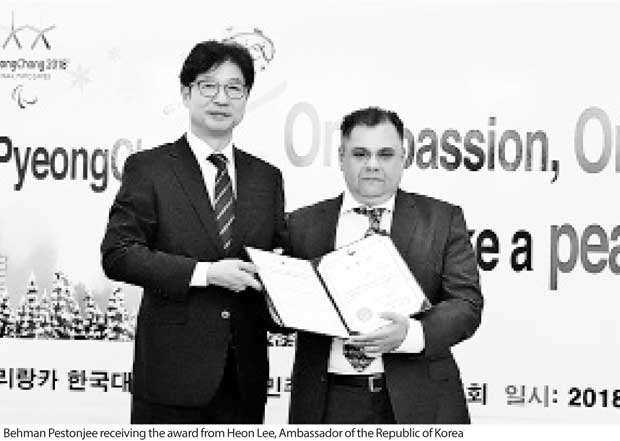 Behman (Tito) Pestonjee recently received the Order of Merit from the government of the Republic of Korea.

This award not only represents Behman's incredible body of work over the past few decades in the retail sector, but also acts as a powerful testament to the Abans Group's significant role in the close bilateral relations between South Korea and Sri Lanka.

"I am deeply honoured, humbled and grateful to receive this award from the Government of South Korea on behalf of myself, my family and my company. I have always taken pride in being associated with LG, which is one of the largest Korean multi-national companies in the world. LG has consistently been near and dear to the hearts of Sri Lankan consumers, due to the brand's impressive quality, innovation and ingenuity. My company, Abans, has enjoyed a warm partnership with LG that exceeds over 30 years. At this point in our long relationship, Abans has become synonymous with LG in Sri Lanka," said Behman Pestonjee upon receiving the award from Heon Lee, Ambassador of the Republic of Korea.
The glamorous occasion, which was organized by the Embassy of the Republic of Korea, took place on 5th February 2018 at the Grand Ballroom, Galadari Hotel.

Having worked closely along with Aban Pestonjee, the renowned Founder and Chairperson of the Abans Group, for more than 30 years, Behman Pestonjee currently serves as the Managing Director of the famed conglomerate. His strong marketing insight and extensive expertise in the retail sector has played an instrumental role in building the business and making Abans PLC a household name across Sri Lanka.

Further, Mr. Behman has contributed towards the conception of Abans' now distinctive and iconic brand identity as well as driven the company to achieve the No.1 position in the home appliances and electronics industry.

Qualified as a marine engineer, class 1 (D.O.T London),. Behman served as Chief Engineer at the Ceylon Shipping Corporation prior to his tenure at Abans PLC. Aside from the Korean Order of Merit, Behman Pestonjee has received several awards and immense local and international critical acclaim.

Founded by Aban Pestonjee as a modest corner shop in 1968, the Abans Group of Companies is a locally and globally reputed conglomerate that specializes in the five strategic business sectors including retail, services, logistics, manufacturing, real estate and infrastructure. Possessing an island wide network of over 400 showrooms and more than 20 service centres, Abans is an inspiring story of Sri Lankan exceptionalism, innovation, creativity and perseverance that continues to evolve throughout the ensuing generations.

Under the guidance of Aban Pestonjee, Behman Pestonjee and the other preeminent directors, the Abans Group will make a pioneering venture into real estate with its mixed-use BOI project, Colombo City Centre. Divided into three phases including a mall, hotel and high-end residences, Colombo City Centre stands to revolutionize local urban lifestyles and become an iconic landmark of Colombo.