---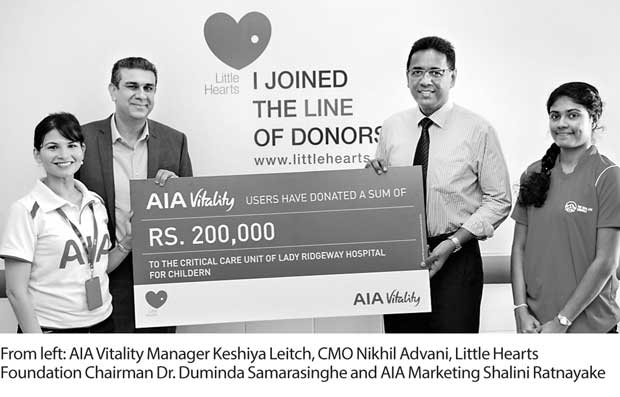 AIA Vitality app users had chosen the Charity option as their AIA Vitality reward and donated a sum of Rs.200,000 in the month of November.
Each user made a donation of Rs.500 per reward towards the Critical Care Unit for children at the Lady Ridgeway Hospital. The Little Hearts foundation wishes to extend its heartfelt appreciation to all AIA Vitality users for their contribution.

AIA Vitality will maintain the donation option on its app for users who wish to partake in a journey towards minimising non-communicable diseases in Sri Lanka.

AIA Vitality is a science-backed wellness programme that offers its users an opportunity to get fit and healthy while earning rewards along the way. Over 25,000 Sri Lankans take part in the weekly challenge and enjoy weekly rewards. AIA Vitality provides participants with the knowledge, tools and motivation to improve their health.

The app can be downloaded for free from the Google play-store or the Apple app-store.