---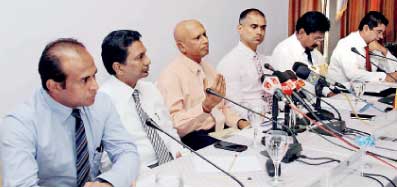 By Chandeepa Wettasinghe
The Chamber of Young Lankan Entrepreneurs (COYLE) called on the government to bring the Comprehensive Economic Partnership Agreement (CEPA) document into the open if it is beneficial to the country as claimed.

"If it is so beneficial, bring the CEPA document into the open, so that the trade chambers, professionals and the public can evaluate it for themselves and decide," COYLE Chairman Navein Perera told Mirror Business.

CEPA—negotiated by the past regime—was to be an expansion of the Free Trade Agreement (FTA) with India, which was cancelled due to pressure from protectionist elements in the Sri Lankan industry.

Perera said that the free movement of people and businesses will allow Indian companies to eradicate competition in Sri Lanka by flooding markets, while local companies will not be able to set up shops in India.

However, consultants and the members of the Institute of Policy Studies who were involved with the CEPA negotiation said that all necessary precautions were taken against such activities, and that the lists were positive lists—where Sri Lanka can decide who or what company comes here or not—during a CEPA discussion organized by the National Chamber of Commerce of Sri Lanka earlier this year.

Policy Planning and Economic Affairs Deputy Minister Dr. Harsha de Silva who was present agreed with the pro-CEPA camp, and said that any weaknesses in the past draft, if any, will be renegotiated with terms more favourable to Sri Lanka. "Dr. Harsha or even the Department of Commerce officials who handled the negotiations haven't seen the final copy that was to be signed. Why? It's in a safe under lock and key. There were changes that were made to that final copy from the draft that we don't know about," Perera said. COYLE Member and KIK Lanka (Pvt) Ltd. Chairman Lalith Kahatapitiya proudly said that COYLE had played an active role in stopping FTA negotiations.

"When these trade agreements were to be signed, we shouted and protested and stopped them," he said.

He further added that despite signing FTAs, Sri Lanka's exports to those countries have not increased, showing their structural weaknesses.

However, President Maithripala Sirisena, at the recent Sri Lanka Economic Summit said that Sri Lanka should multiply bilateral and multilateral free trade agreements, while Prime Minister Ranil Wickremesinghe and Economist Professor Razeen Sally had spoken about opening discussions for FTAs with the US, EU, Singapore and renegotiating CEPA. "This particular economic summit was conducted by one chamber which has many foreign members, so they may have an interest to do it, but we don't know whether it was the interest of the government or the new government," COYLE Member and Natures Beauty Creation Chairman/MD Samantha Kumarasinghe said.

He said that COYLE will oppose CEPA as it did in the past. "We will definitely oppose, because it will not help Sri Lanka. We can give any amount of facts and figures to show that CEPA is not beneficial to Sri Lanka. We have done this with the past government, and also in the future we will do that without any hesitation," he said.

COYLE released an economic policy document with 13 recommendations, which would 'protect the Sri Lankan entrepreneur'. It said that there should be no further expansion of FTAs, and that all future FTAs should be debated in Parliament before implementation.