---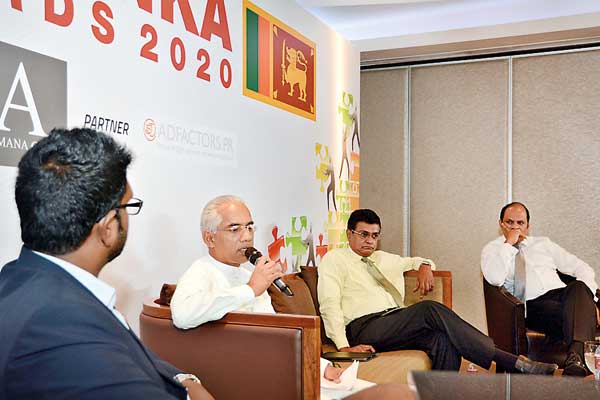 By Chandeepa Wettasinghe
Sri Lanka has been misled by the rate of economic growth and has been conditioned against the private sector, according to a reputed accountant in the country.
"We have, for far too long—particularly for the past 10 years—been intimidated and mesmerized by what I call, a growth statistic," Institute of Chartered Accountants Past President Ranel Wijesinghe said.
He said that numbers such as GDP and national income were artificially bloated through borrowed funds, which were put into roads, ports and airports through public investment.
While he said that some of these projects may be important, painting the country as growing due to such debt financing is misleading.
"By having a huge public investment sourced by borrowed money, exposing the country to risk of not only the debt on its balance sheet, but also vis-à-vis the debt servicing that results, what is the outcome of all this? It's a growth statistic that we keep on talking about and I find it quite amazing that quite a number in professional and business community say 'look, after all, we have grown by x percent," he said.
He said that this was a completely wrong development strategy, and that the Sri Lankan market is too small for domestic oriented industries, and savings levels are extremely low to draw local investments, hinting that the country should attract foreign direct investments (FDIs) into the exports sector; a view corroborated by Highways and Investments Promotions Deputy Minister Eran Wickremaratne.
According to him, the risk created by such a strategy is one of the main reasons for the lack of FDIs in the past.
Sri Lanka, since the end of the war, has barely been able to surpass US$1 billion in FDIs, while Vietnam, which had similar FDI levels to Sri Lanka in 2000, is now attracting between US$10-20 billion annually.
Institute of Chartered Accountants President Arjuna Herath said that the government should package and advertise public investment projects in an attractive manner to attract FDIs.
"… so that there are people interested in bidding and we have an investors-herd mentality; when you have one investor that comes in, there is a second investor who wants to follow," he said.
Wijesinghe replied that packaging projects is not the role of the government, and all public investment projects should be public-private partnerships, with the government defining their exact role and not stepping out of line.
"If the government crowds out the private sector, there is no role for the private sector," he said.
Meanwhile, Wijesinghe went on to say that the previous government deliberately created criticism against the market economy and privatization.
"The previous government fueled the fire with regard to anti-market economic policies and anti-privatization policies. 'Privatization is a bitter pill,' they said, and so restructuring the economy became impossible," he said.
To restructure the economy, he noted that the government would have to first be elected, which wouldn't happen if they are inclined to privatization, which is the ideal way forward.
"The incumbent government should privatize Lanka Hospitals. Should re-privatize Sri Lanka Insurance Corporations. I'm sure they wouldn't do that, because the population has been fed with this thing that the privatization is the bitter pill," he said.
Wickremaratne agreed, saying that the government cannot create effective, productive jobs, and it is the private sector which should be the employer.
Wijesinghe added that if independent regulatory bodies are performing their role, a market economy can be perpetuated with desirable regulation.
The comments were made during the 'Sri Lanka Towards 2020' panel discussion organized by Amana Global.