---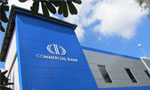 Commercial Bank PLC, Sri Lanka's largest private bank with an asset base of Rs.748.6 billion, saw its September (3Q14) net profit increasing 20.85 percent yearon-year (yoy) to Rs.3.33 billion, according to interim financial accounts released to the Colombo Stock Exchange.
The earnings per share (EPS) improved to Rs.3.88 from Rs.3.25 reported in the same quarter of the previous year.The finances were largely boosted by gains from financial investments, which grew t o Rs.1.32 billion during the quarter under review from just Rs.1.6 million in the same quarter of the previous year.On August 31, Commercial Bank fully acquired Indra Finance (IFL) for a consideration of Rs.916 million. The notes to the financial statements said finances of IFL have been consolidated in the bank's comprehensive income and financial position.

Meanwhile, net interest income during the quarter under review fell 0.25 percent yoy to Rs.6.68 billion. The interest income fell 4.17 percent yoy to Rs.15.3 billion while interest expenses declined 7 percent to Rs.8.62 billion.The net interest margin narrowed to 3.91 percent from 4.53 percent nine months ago.The net fees and commission income during 3Q14 improved 6 percent yoy to Rs.1.29 billion. For the nine months, the fees and commission income rose 11 percent yoy to Rs.3.49 billion.

The net trading losses during the quarter widened to Rs.846 million from Rs.27 million. On the other hand, other operating income rose 42.38 percent yoy to Rs.2.02 billion.The bank recorded an impressive loan growth of 15.38 percent since end of December 2013, with loan book growing Rs.63.5 billon to Rs.483.3 billion. This shows an average loan growth of Rs.7 billion per month.

Total deposits grew by Rs.53 billion or 11.75 percent over the nine months, at an average of almost Rs.6 billion a month, to Rs.504.16 billion.
The gross non-performing loan ratio slightly improved to 3.84 percent from Rs.3.88.Impairment charges on loans and losses for the quarter declined 23.7 percent yoy to Rs.965.3 million but for the nine months, the impairment provisions rose 14. 2 percent yoy to Rs.3.4 billion.

The expenses during the quarter under review rose 9.83 percent yoy to Rs.3.97 billion with personal expenses increasing 12.24 percent yoy to Rs.2.33 billion.
The net profit for the 9 months stood at Rs.7.8 billion, up 8.34 percent yoy. The EPS was Rs.9.14, up from Rs.8.14 reported during the same period of the previous year.Commercial Bank Chairman Dharma Dheerasinghe described the bank's ninemonth performance as "characteristically robust," with higher business volumes compensating to some degree, for the reduced margins.

The bank's Tier I and Tier II capital adequacy ratios stood at 12.97 percent and 16.13 percent respectively, well above the minimum requirement of 10 and 15 percent. The largest shareholder of Commercial Bank as at September 30, 2014 was DFCC Bank which had a 14.80 percent stake, followed by statecontrolled private sector pension fund, Employees' Provident Fund with a 9.74 percent stake.
Franklin Te mp l e t o n Investment Fund was the third largest shareholder with a 5.93 percent stake.The bank has declared an interim dividend of Rs.1.50 per share in respect of the period under review.The Commercial Bank share which traded as Rs.155.90 (voting) and Rs.113.90 (non-voting) at the end of the third quarter, traded at Rs.174.00 and Rs.118.50 respectively on November 13, 2014.Commercial Bank has the highest market capitalisation among companies in Sri Lanka's financial services sector and ranks No.3rd among all listed companies.