---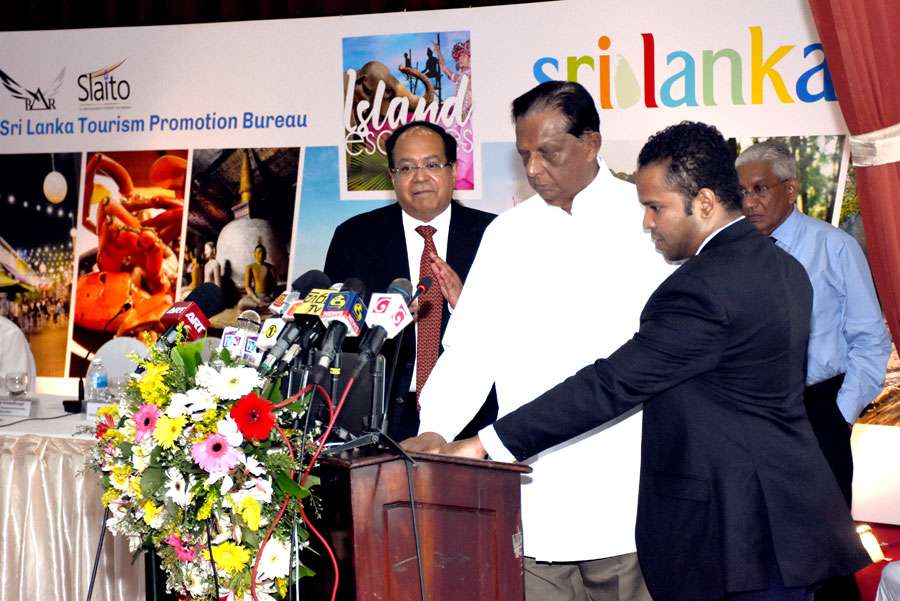 Minister John Amaratunga launching the "Island Escapes" tactical promo campaign in the presence of Sri Lanka Convention Bureau, Chairman Kumar De Silva
Pic by Kusan Pathiraja
By Nishel Fernando
Sri Lanka Tourism has upped its tourist arrivals target to three million from 2.5 million this year, while eyeing four million tourist arrivals next year as the new tourism promotional campaigns are getting off the ground.

The Minister of Tourism and Christian Affairs, John Amaratunga yesterday officially announced "Island Escapes" tactical promotional campaign which is to be kicked off in three key source markets of Sri Lanka tourism: India, China and Middle-East under the first phase aiming to transform Sri Lanka to a 365-day
holiday destination.
The "Island Escapes" promotional campaign is scheduled to kick off from 15th of September this year with the objective of increasing tourist arrivals during lean months from September to November and April to June with special discount packages.

The Ministry of Tourism and Christian Affairs has budget to spend Rs 65 million in the first phase of the campaign with an objective to reach over 10 million audiences on social and other digital channels.

J. Walter Thompson Sri Lanka and GroupM Sri Lanka have been chosen to carry out the campaign.

Addressing the launch event, the upbeat Minister said, "If you see by the end of this year, the figures will change dramatically as we are now getting into the promotional campaigns. We are now heading into the higher bracket.

We will be able increase number of tourist arrivals from 2.5 million to 3 million during upcoming months. We are hoping to go up to four million next year; for that, we have to find ways and means as to how we can get there."

Speaking to Mirror Business, he said that US$3.5 million digital marketing campaign in India, China, Germany, France and United Kingdom would be kicked off this October as the cabinet already awarded the contracts to marketing agencies.

Meanwhile, Amaratunga revealed that the new country branding for Sri Lanka Tourism will be unveiled at the ITB Berlin (Internationale Tourismus-Börse Berlin) in March 2019 revising the earlier target to launch the new branding at the World Travel Mart (WTM) in London in November this year.

The cabinet of Ministers last week approved the cabinet proposal presented by Minister Amaratunga to select agencies to develop the new country branding and to carry out a promotional campaign to promote the new brand.

However, due to time constraints, the new country branding along branding promotion is expected to be launched at the ITB Berlin in March 2019 which would be followed by a much anticipated global promotional campaign.

Amaratunga pointed out that by launching the new country branding at the world's largest tourism trade fair would give the widest publicity to Sri Lanka tourism.
Speaking at the gathering, SLTPB, Managing Director Sutheash Balasubramaniam pointed out that 50 percent of the year was termed as off season leading to low occupancy. Hence, he stressed that the changing of this perception which was promoted by foreign tour agencies is a must to double the number of tourist arrivals and yield by 2020, which was also acknowledged in the 2017-2020 tourism strategy.

He noted that the "Island Escapes" tactical promotional campaign was the first step towards transforming Sri Lanka to a 365-day holiday destination.

However, Balasubramaniam emphasised that Sri Lanka doesn't intend to become a cheap destination, however, would offer fairly attractive prices during lean periods to curtail low occupancy levels. The promotional campaign is a collaboration between the Ministry of Tourism and the key tourism stakeholder associations including tour operators, airlines and hoteliers.

As a part of the campaign running between September and November 2018, participating hotels are expected to offer several attractive packages including a 4 days/3 night package at US$99 million.

Amaratunga noted that these rates are a 40-50 percent discount on current rates.

In addition, 15-20 airlines in the region including Sri Lankan Airlines, Emirates and Qatar has also come onboard to offer special rates on airfares.

"We have seen countries like Malaysia, Thailand and Vietnam do this kind of thing very successfully and based on the success of the campaign, we will fine-tune it next year," the Minister said.

Sri Lanka has attracted 1.58 million tourists with a 12.5 percent YoY growth during the first eight months of the year.