---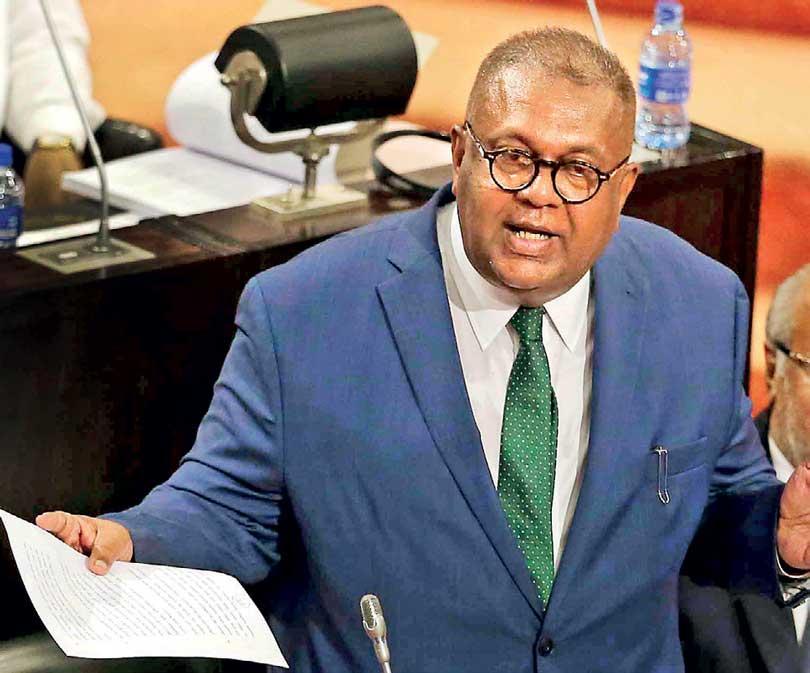 Finance Minister Mangala Samaraweera delivering 2019 Budget speech
Pic by Nimalsiri Edirisinghe
FinMin announces Rs.2, 500 special allowance for State sector
Sets ambitious fiscal deficit target of 4.4% of GDP
Plans to raise Rs.450bn through foreign commercial borrowing
SL expected to hold Presidential Election later this year and General Election in 2020

By Indika Sakalasooriya
Finance Minister Mangala Samaraweera yesterday walked a tightrope presenting his second budget, trying his best to balance people's aspirations in the backdrop of impending elections while proposing measures to increase government revenue to keep the country's wobbling economy on the fiscal consolidation path.

Samaraweera didn't mince his words setting the tone of the Budget 2019 themed 'Empowering the People, Nurturing the Poor,' saying that Sri Lanka's economic growth will be led by the private sector, which is ready to compete in a fair market and not by a small group of crony capitalists who "thrived in a kleptrocracy."

While pledging his government's continued commitment to the bilateral trade deals already pursued with countries like China, India and Thailand, Samaraweera said Sri Lanka's extensive use of para-tariffs to protect certain domestic sectors will be phased out over a period of five years. Also, the Budget 2019 paid the required heed to some of the key socio-economic issues Sri Lanka is facing such as the acutely lower participation of women in the country's labour force and the lack of physical infrastructure facilities available for the disabled people to make a meaningful contribution to the country's economy.
However, despite these forward-looking and progressive sentiments, the Budget 2019 was full of spending proposals—from allocating funds to setting up 'Kibbutz style' farms to rehabilitate prisoners to introducing 'Home Sweet Home' subsidized housing loans scheme for the newly married—evidently targeting voters before the crucial polls expected to take place end of this year.

Samaraweera in the Budget 2019 promised further allocations for rural infrastructure projects such as 'Gamperaliya' and for programmes to protect low-income earners.
The Rs.2, 500 special allowance for the public sector employees from this July—for which Rs.40 billion has been allocated—and the upwardly revised pension payments are perceived as real sweeteners targeting voters.

To fund these, Samaraweera proposed to raise taxes on vehicles, cigarettes, liquor, credit and debit card payments and tourism sector.

The government though Budget 2019 expects to increase spending by 13 percent while trying to keep the fiscal deficit at 4.4 percent of Gross Domestic Product (GDP) this year, down from 5.3 percent in 2018.

The budget document showed the government's plan to borrow Rs.450 billion through foreign commercial borrowing.

The tax revenue expected to be raised for the year is Rs.2, 077 billion, up from Rs.1, 712 billion in 2018.

Prime Minister Ranil Wickremesinghe's government, which was reinstated after a 51-day political crisis, had been under heavy criticism for higher taxes, tight fiscal and monetary policies and lackluster growth.

Sri Lanka last week entered a staff level deal with the International Monetary Fund (IMF) to extend its Extended Fund Facility (EFF) entered into in June, 2016, by one year.

Under the agreement, the government is expected to bring down its fiscal deficit to 3.5 percent of GDP by 2020 and raise the primary surplus to 1.5 percent of GDP.
Sri Lanka's economy is projected to grow 3.5 percent this year.

Six days have been allocated for the debate on the second reading of the budget, from March 6 to 12.

The committee stage debate will run for 19 days, from March 13 to April 5 and the final voting will be held on April 5, afternoon.