---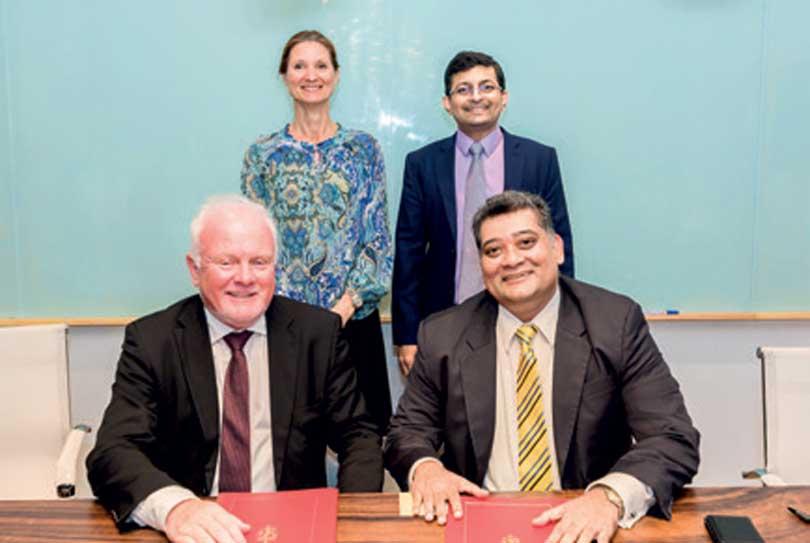 Norwegian Ambassador Thorbjørn Gaustadsæther, SLASSCOM Vice Chairman Channa Manoharan, State Secretary Marianne Hagen and SLASSCOM Executive Director Chrishan de Mel
The Sri Lanka Association of Software and Services Companies (SLASSCOM) and Norwegian Foreign Affairs Ministry expressed their intent to further collaborate in developing the information and communication technology (ICT) sector for sustainable employment generation in the future and to bring about innovation through knowledge transfer programmes.
A letter of intent in this regard was signed by Norwegian Ambassador to Sri Lanka Thorbjørn Gaustadsæther and SLASSCOM Vice Chairman and Board Director Channa Manoharan.
The signing was witnessed by Norwegian Foreign Affairs Ministry State Secretary Marianne Hagen.

She was also able to observe and engage in a TechKids session conducted by SLASSCOM TechKids Manager Shiraz Azad.

Speaking at the event, Hagen stated, "I'm delighted to see the continuation of the Kids Can Code initiative. Kids are the future. I'm very happy for this good collaboration between Sri Lanka and Norway on ICT development and entrepreneurship."

The initiatives planned within this potential collaboration aim to create sustainable mechanisms for the next generation of IT employment by introducing coding to children, targeting kids from the ages of six to 15 years. This is a method of teaching kids the basic elements of coding in a fun and interesting way, with a special emphasis on encouraging girls to code.
Beginning in 2018 with support from ICT Norway, SLASSCOM has initiated and supported code clubs in various parts of the country.

Another aspect of this collaboration intends to focus on start-up companies. Supported by ICT Norway, the SLASSCOM has provided international exposure for multiple start-ups by participating in the Oslo Innovation Week, over the past three years. There is potential for this initiative to be extended to encourage several Norwegian start-ups to visit and work from Sri Lanka. This exchange will enable innovation and knowledge sharing between Sri Lanka and Norway.