---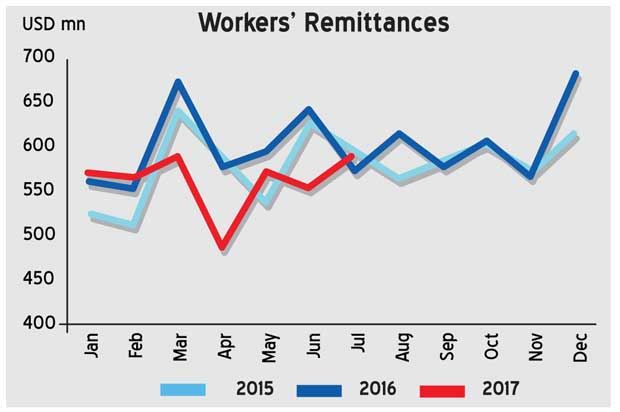 Workers' remittances, the key foreign exchange earner of the dollar-hungry nation, suffered a major setback this August, delivering a severe blow to the US $ 81 billion economy already grappling with massive debt load and outstretched current account deficit.

The latest Central Bank data for the month of August showed the remittances from the Sri Lankans working abroad— particularly in the Middle East – falling by a record 10 percent to US $ 556.6 million from the same month in 2016. This appears to be the sharpest year-on-year (YoY) drop in Sri Lanka's top most foreign income earner ever recorded, which absorbs up to 80 percent of the deficit left by the country's trade account.

On a cumulative basis, for the first eight months, the remittances declined by 6.3 percent YoY to US $ 4.5 billion due to, "adverse economic and geopolitical conditions prevailing in the Middle Eastern region", the Central Bank said.

Prior to the current geo-political tumult in the region, Sri Lanka has been regularly receiving up to US $ 7 billion in remittance income annually, which is about 10 percent of the country's gross domestic product (GDP).

Currently there are about two million Sri Lankans working abroad, mostly in blue-collar jobs. But the tightening labour market, stringent regulations and the rising employment income back home has put a lid on the number of people seeking employment abroad.

It was only recently the Central Bank Governor Dr. Indrajit Coomaraswamy told a presser that a temporary slow-down in remittances could even be a blessing in disguise at a time when the local industries find a shortage of workers in sectors such as construction and manufacturing.

However, the economists Mirror Business talked to opine that the falling remittances may aggravate the country's external vulnerability at a time when the country faces a mounting task of repaying billions of dollars of debt maturities during the next few years.

Remittances and tourism earnings buttress the current account of the balance of payment for a certain degree but Moody's Investors Service this week forecasted a higher deficit in the current account for this year.
"The large trade deficit is mainly offset by tourism receipts and, more significantly, remittances. While generally robust, these income flows fluctuate from year to year and leave a shortfall in the current account", Moody's said in their newest report on Sri Lankan sovereign titled 'External pressures constrain credit profile'. Moody's projects Sri Lanka's current account deficit to stretch further to 3.0 of the GDP this year from the 2.4 percent in 2016 before becoming stable around 2.3 percent of GDP in 2018 and 2019.

With the absence of sizable foreign direct investments, Sri Lanka also runs the risk of having to borrow further.

Amid the looming debt crisis, Prime Minister, Ranil Wickremesinghe is expected to make special statement in Parliament on the economy, shortly—his fourth since coming into power.