---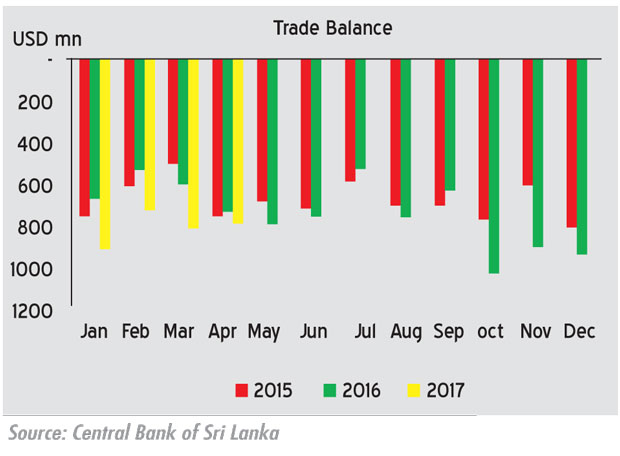 Despite export earnings making a brisk upturn in April, extending the gains in March, Sri Lanka's trade deficit remains at worrying levels as the country's imports bill continues to rise.
According to the latest Central Bank data, Sri Lanka's exports earnings in April rose by 11.9 percent year-on-year (YoY) to US $ 795 million. This is the second month in a row where the export earnings grew after many months of contraction albeit some intermittent increases seen in a few months in between. However, April export earnings are less than half of the country's import bill, which grew by 9.8 percent YoY to US $ 1.6 billion.
While the commodity-wise breakdown of imports is yet to be published, the spike in the oil bill has driven most of the expenditure of the import basket. The data shared by the Central Bank last week suggested that the total imports during the first four months have risen by 13.7 percent to US $ 6.9 billion of which a little under a fifth or US $ 1.2 billion has been spent on importing oil.
This marked a whopping increase of 76 percent over the same period last year as the country was forced to opt for expensive thermal power due to the worst drought in four decades drying up its hydropower capacity.
This was also exacerbated by the normalizing global crude oil prices from record lows.
These developments expanded Sri Lanka's trade deficit to a record US $ 3.3 billion by the end of the first four months of the year, which was higher than in both 2015 and 2016.
Sri Lankan policy makers bank on the restored GSP Plus facility to stimulate the exports but any benefits, will only be available for no more than a couple of years before the facility being deprived as the country is set to hit the middle income bracket earliest by 2020.
A recent study by the Institute of Policy Studies (IPS), a state-funded policy think tank based in Colombo has estimated a 15 percent increase or US $ 480 million increase in overall exports to the European Union (EU) as a result of regaining the GSP Plus.
This estimate is slightly higher than the Euro 300 million or US $ 335 million—the number quoted by the EU.
" It is also important to bear in mind that the impact on exports occurs within two years after preferences have been granted, according to economic assessment of the EU GSP arrangements in developing countries," said Janaka Wijayasiri, the author of the IPS study titled, 'Crunching the numbers: What is the real export benefit of GSP Plus to Sri Lanka ?".
While the EU's GSP scheme has had an overall positive economic impact on beneficiary countries in increasing exports through export diversification and attracting export-driven foreign direct investment, the facility comes at the expense of many EU imposed conditions, many of which could be seen as inimical to the culture and the national interests of a beneficiary country. (Read full article on Page 7)