---
President Maithripala Sirisena appears to have softened his decision to ban state entities holding official ceremonies, meetings and various programmes at private hotels, which was announced by the President's Media Division (PMD) last week.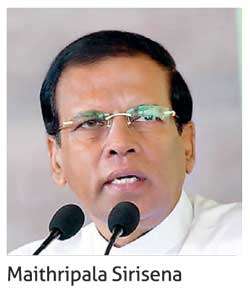 The PMD last Friday said that the president had issued a circular banning the state agencies from holding any ceremony, meeting or any other programme at private hotels, particularly at luxury hotels.

However, the announced circular was never circulated and instead, the state institutions yesterday received an earlier circular issued by the Presidential Secretariat on September 25, 2015, which only cautioned the ministry secretaries holding functions, seminars, workshops and other state events in luxury hotels at "an exceedingly high costs".
The circular no: SP/SB/07/15 requested the ministry secretaries to issue instructions to all state institutions coming under their respective ministries to ensure that all state functions are held in a manner which achieves their optimum objective at a lower cost.