---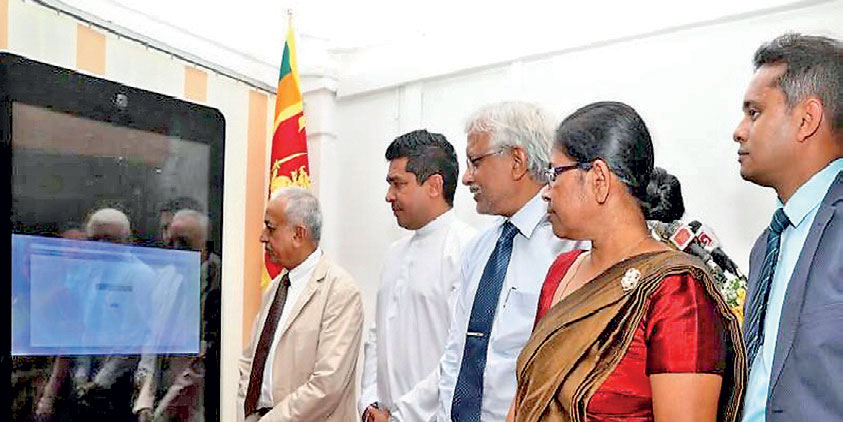 Development Strategies and International Trade Minister Malik Samarawickrama, International Trade State Minister Sujeewa, Telecommunications and Digital Infrastructure Ministry Secretary Wasantha Deshapriya, Acting IECD Controller General T. V. D. Damayanthi S. Karunrathna and ICTA, Director Special Project Kanchana Thudugala
The Information and Communication Technology Agency of Sri Lanka (ICTA) in collaboration with the Import and Export Control Department (IECD) has developed an online license issuing and debiting system to further simplify and accelerate import/export procedures.

Via the system, importers and exporters can now apply for an import/export license, debit note or an amendment online and the department records will be
updated accordingly.

The new online portal was launched by Development Strategies and International Trade Minister Malik Samarawickrama and International Trade State Minister Sujeewa Senasinghe in the presence of other government officials.
Addressing the gathering, State Minister Senasinghe said, "As we journey towards taking this country to great heights, developing the import and export climate is paramount. The government has taken major steps to increase international trade for Sri Lanka.

The IECD plays an important role in this. The department not only greatly benefits by being online but helps all those involved due to it being convenient and computerised. Especially individuals can benefit, as they do not have to personally meet people, but can proceed with their requirements online."

Senasinghe said the government is also hoping to digitise several key agencies and ensure that they are interconnected.

"We hope these improvements will result in our 'Ease of Doing Business' reaching 70 and the momentum drive the country to great heights and increase our exports further," he said.

Prior to the launch both importers and exporters and the department faced numerous challenges including time spent on manual applications, the requirement of personally being present at the department to lodge applications and fill documentation, time lost due to tedious back and forth communication, crowded offices and increasing importer complaints.

As Phase One of the project, the portal provides importers/exporters easy access to information, lodging of applications at one's convenience even 24/7, quicker approvals, online receipt of import licenses, ease in monitoring the process and receiving timely email notifications.

The new system will help streamline processes, improve transparency, showcase IECD's commitment and efficiency and contribute to generate more revenue as a result of increased importer compliance levels, and also a possible increase in the volumes of imported goods as a result of reduced delays.
Phase Two of the system, which is expected to be launched mid-2018, will integrate all recommendation agencies to the single window ecosystem.

To ensure a more smoother and convenient process in obtaining licenses, Phase Two will offer a single window concept, where applicants do not have to visit other agencies but submit and receive their permits through a 'one stop shop' model.

This will also include integrating the Customs procedures. Through the debiting and amendment process the information will then update and trigger Customs databases as well. As a result all manual procedures will no longer be required and importers/exporters can submit all requisite information via the IECD online portal.

The analytical data will further assist trade officials in decision making.

Phase Two will also provide for online payments where applicants can pay the fees via credit cards, bank drafts or transfers and inform the department accordingly.