---
Balmond designed Rs.500mn Jetwing Surf in Pottuvil
Second Hotel J brand Rs.350mn hotel in Unawatuna
To manage second hotel in Jaffna under North Gate by Jetwing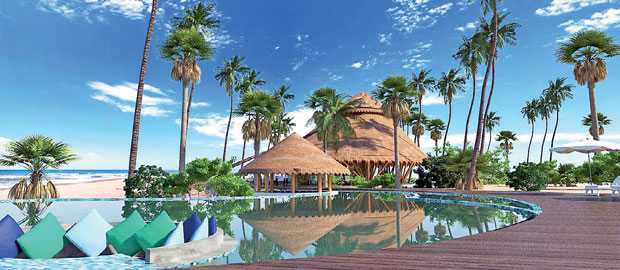 Concept image of Jetwing Surf in Pottuvil
By Chandeepa Wettasinghe
Jetwing, one of Sri Lanka's three largest hospitality and tourism firms, is adding three new hotels to its portfolio later this year with Rs.850 million in investments, with the properties located at extreme ends of the island from the capital Colombo.

"(There) will be another in Jaffna, named North Gate by Jetwing.
We will have 44 rooms and it's located just outside the Jaffna railway station," Jetwing Hotels Ltd Marketing Manager Prasanna Welangoda told Mirror Business.

The firm will have the management contract for the five-star standard North Gate hotel, which will open this November. Jetwing is currently the only major hotel brand to have an operation in Jaffna with the 55-room Jetwing Jaffna, which was opened last year.

Although hotels in the Northern peninsular are mostly serving locals and Sri Lankans residing in foreign countries, who visit friends and relatives in the island, the continued interest of a major hospitality brand in the Northern Province could help with the required spatial distribution to ease the increasingly unsustainable levels of tourists visiting major tourism hotspots in the island.

According to Welangoda, a Jetwing-owned property in Pottuvil with 20 beach cabanas, close to the popular surfing sport Arugam Bay, is also being constructed at a cost of Rs.500 million, named Jetwing Surf.

The property, being designed by John Balmond, with five-star standards, is set to open its doors this October.

Although the popular belief is that surfers opt for budget accommodation, Welangoda said that the property will be catering to high-end surfers.

"I agree that the perception is that surfers go for budget options, but what if we give people another option? There are surfers from countries like Australia, who are in their 30s, 40s and 50s, who go all around the world to places like Hawaii to surf and have the capacity to spend on luxury. So it's all about perception," he said.

The property will also be family-friendly, according to him, and is hoping to be constructed as a carbon neutral hotel. He said that the concept is similar to Jetwing's popular Vil Uyana hotel and will be using a lot of the regional construction material and skills to construct the hotel.

The third property in Unawatuna, coming under Jetwing's select service accommodation brand Hotel J, is being constructed at an investment of Rs.350 million. The 36-room property will include six dorm rooms as well.

Currently there is only one hotel in the Hotel J brand, situated in Negombo.

"The Hotel J concept is similar to a hostel. They are in a central location and we encourage our guests to go around and explore the localities. There's free fast Wi-Fi, cable TV and the showers and the beds are the same as those used in our high-end properties because if you're out the whole day exploring, you need a good night's rest. They're also clean, secure and affordable," Welangoda said.
He said that the property will have a three-star standard and will open this October.

Jetwing, which focuses mainly on mid to small-scale hotels, resorts and villas, has had an exceptionally busy year of expansion in 2017. It recently opened Jetwing Lake in Dambulla and earlier this year opened Jetwing Colombo Seven and Oatlands by Jetwing in Nuwara Eliya.

Tourist arrivals growth to Sri Lanka however has been slowing down considerably over the past several years and the government is hoping to kick off a massive global promotional campaign soon to redress this.