---
Says discussions on the agreement to finish end of this year
US $ 1bn Chinese investment into synthetic rubber already pursued
Proposals have been received for ventures within H'tota port land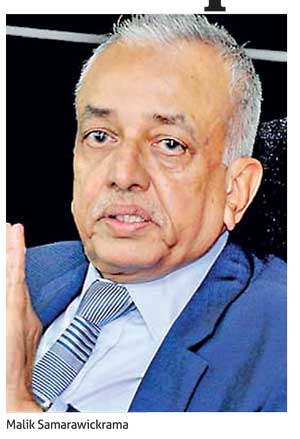 By Chandeepa Weattasinghe
The proposed Chinese industrial zone that will feed in business to the Hambantota port will have a similar ownership structure to that of the port and the discussions on the agreement are expected to finish by the end of this year, according to Development Strategies and International Trade Minister Malik Samarawickrama.

"Now we are having negotiations with the Chinese party regarding the terms, and I'm sure before the end of the year, those negotiations will be completed and there again that also will be a joint venture; 70 percent to Chinese and 30 percent to us," Samarawickrama said last week at a post-budget seminar.

The Hambantota port was leased to China Merchant Port Holdings Limited for 99 years for US$ 1.12 billion, with China Merchant having a 70 percent effective shareholding in the port.

"We expect the joint venture company between China Merchant and SLPA to take over the port on the 8th of December. So, with that they will inject the first tranche, which is about US$ 430 million, and the balance will come 6 months later. As far as the port is concerned, everything is in place," Samarawickrama said.

In order to make the port viable, a 15,000-acre investment zone was conceptualized in mid-2016.
Following protests in Hambantota over fears of state acquisition of civilian—especially agricultural—lands, Samarawickrama in late-2016 said that the industrial zone would consist of 95 percent state land from three to four surrounding districts.

He had also pledged that forest reserves would not be harmed in the process. Development of projects in Hambantota, such as the Mattala Airport and the Sooriyawewa Cricket Stadium, had taken place in the middle of elephant ranges.