---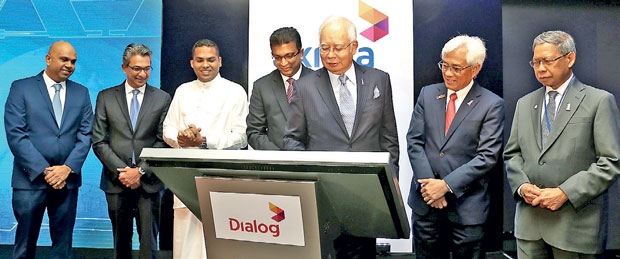 Malaysian Prime Minister Dato' Sri Mohd Najib bin Tun Abdul Razak ceremoniously launching the Dialog Axiata Digital Innovation Fund while (R-L) Dato' Sri Mustapa Mohamad, Minister of International Trade and Industry of Malaysia, Tan Sri Jamaludin Ibrahim, President and Group CEO of Axiata, Supun Weerasinghe, Group Chief Executive, Dialog Axiata PLC, Harin Fernando MP, Minister of Telecommunications and Digital Infrastructure, Rajan Anandan, General Partner, BOV Capital and Prajeeth Balasubramaniam, General Partner, BOV Capital look on
Dialog Axiata PLC, Sri Lanka's premier connectivity provider, announced the launch of the Digital Innovation Fund (DIF), in the presence of Malaysian Prime Minister Dato' Sri Mohd Najib bin Tun Abdul Razak to signify the Malaysian investment in setting up the country's first digital venture capital fund to exclusively focus on financially supporting Sri Lankan digital startups.
The launch was witnessed by Malaysia's International Trade and Industry Minister Dato' Sri Mustapa Mohamad, Sri Lanka's Telecommunications and Digital Infrastructure Minister Harin Fernando, Axiata Group President and CEO Tan Sri Jamaludin Ibrahim and Dialog Axiata PLC Group CEO Supun Weerasinghe.

The Digital Innovation Fund, initiated and anchored by Dialog, will be managed by BOV Capital— a fund management firm that specializes in investing in technology companies.

The Digital Innovation Fund will invest in startups that have strong business models, have proven product market fit, demonstrated some ability to expand in Sri Lanka and have the potential to become market shaping digital businesses in the country and beyond.

The fund aims to deploy a corpus of Rs.2.3 billion into high potential Sri Lankan startups, and will invest most of the fund into early stage companies with each investment ranging between Rs.50 million to Rs.200 million per company.

The fund will also set aside 20 percent of its total amount to invest in startups in their seed stage, especially those which are looking for investments below Rs.40 million per company.

In addition to financing, the fund will provide support for start-ups and businesses through mentoring, knowledge sharing and business development.

Potential investees will also gain insight to marketing, and other critical business processes leveraging strengths of the Smart Axiata Digital Innovation Fund, a similar venture capital fund that was set up to support incubation programmes in Cambodia. This will further help create and realize value that remains untapped.

Commenting on the occasion, Dialog Axiata PLC Group CEO Supun Weerasinghe said, "As an organization that has been in the forefront of innovation in the country's telecommunications industry, we are very happy to initiate this venture capital fund to support companies currently established or emerging in the field of digital-based services. Small, medium and large scale digital based service providers will be the focus of the Digital Innovation Fund, and we will be selecting potential candidates through a systematic evaluation process. Our ultimate goal is to develop the digital service ecosystem in Sri Lanka, and further enrich the lifestyle of people through digital services." The fund will be managed by BOV Capital, a fund management firm that has extensive experience in investing and building technology focused companies. The founders of BOV Capital have been instrumental in developing the Sri Lankan entrepreneurial ecosystem over the past seven years.

Commenting on the occasion, general partners of Dialog Axiata Digital Innovation Fund, Rajan Anandan and Prajeeth Balasubramaniam said, "The Digital Innovation Fund will provide the much needed risk capital and business building support to Sri Lanka's digital startups. Our first fund BOV Capital 1 focused on B2B tech startups keen on expanding regionally, and DADIF will now look at digital ventures that are focusing on the domestic market. We are very excited about the partnership with Dialog Axiata."

The Dialog Axiata Digital Innovation Fund is one of the many avenues created by Dialog Axiata to enable aspiring entrepreneurs and promising businesses to grow. Other initiatives include Ideamart and IdeaBiz platforms which supports over 8000 entrepreneurs, and I Say You Do, a service creation environment where services can be constructed across three domains, namely, telecommunication, internet and connected devices.

Dialog's partnerships with incubator hubs and awareness programmes will collectively contribute towards the holistic vision to accelerate digital start-ups and innovation opportunities for Sri Lankan tech entrepreneurs.