---
Minister says very important sector in economic planning
Govt. spends over US $ 1.2 mn this year on this sector
Food sector exports more than double to US$240 mn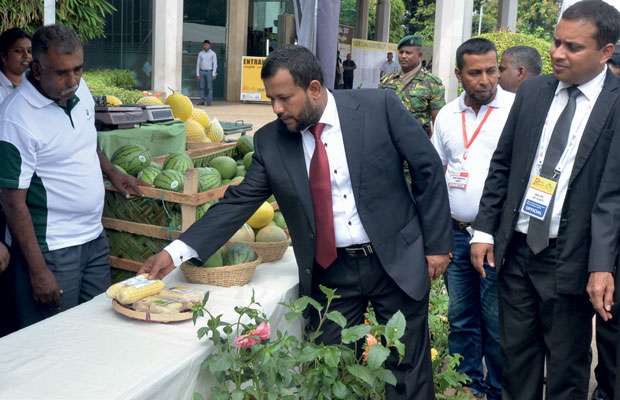 A huge sub-sector within Sri Lanka's crucial Small and Medium Enterprises (SME) that directly impacts national food supply and security is being positioned for exports. Encouraged by raging exports in this sector, Sri Lanka has begun work on the country's first ever international standard food testing and safety centre that directly focuses even the village food producers in the country.

"We believe that more than 40 percent of our SMEs are in food processing sector. These efforts are a part of our bigger plan to link this sector to our exports," revealed Minister of Industry and Commerce addressing the launch of the 16th edition of Pro Food Pro Pack Agribiz international expo at BMICH yesterday.

Joining Minister Bathiudeen on the occasion were Secretary to Ministry of Industry and Commerce Chinthaka Lokuhetti, exhibitors from Sri Lanka, Malaysia, India, China, and Thailand as well as , President-Sri Lanka Food Processors Association Maliek De Alwis.

This expo series, originally launched by the Industry and Commerce Ministry in Colombo in 2001 with local exhibitors, has now expanded to become an annual international food industry event in South Asia sought after by international firms in the industry. Among last year's expo participants were exhibitors from Morocco and Poland.

"The SMEs in the food processing sector producing at an annual reported value of Rs 100 million and employing 1.5 million people. This sector is therefore highly significant in our economic planning," said Minister Batiudeen, and added: "As a result our ministry has allocated close to Rs 195 million (US $ 1.2 million) for this year alone to enhance Sri Lanka's food sector in many projects. The most important project is the setting up of Sri Lanka's first Accredited Food Laboratory for SMEs called as the Centre for Food Analysis and Food Safety under the Industrial Development Board of this Ministry. This is also the first such facility for the SME food sector of Sri Lanka. The cost of this lab facility is Rs 140 million. It will test food products from all Districts of Sri Lanka. IDB offices in all Districts will collect the products to be tested. This lab will use both local and international standards such as SLS and ISO.

"It will also focus on many other Sri Lanka food industry development activities. The "Developing Small Scale Food Industries by Improving Processing Technology" project , "Facilitation of SMIs in food sector through packaging", Good Manufacturing Practices (GMP) Certification project, the "Industrial productivity market competitiveness and sustainability improvement programme" to bring in various international ISO certifications such as ISO 9001 ISO 14001 project, are among our food sector projects for this year.

These efforts are a part of our bigger plan to link this sector to our exports."

According to the Export Development Board, Sri Lanka's food exports in Y2016 jumped by a huge 112 percent to US $ 240.48 million, doubling from 2015's US$ 113 million (categories are processed fruits and vegetables, confectionary and bakery items and processed foods).

President-Sri Lanka Food Processors Association Maliek De Alwis said that the food sector within Sri Lanka's SMEs could be way larger than officially believed. "The food sector presence within Sri Lanka's SMEs could be more than 50 percent if we are to count the unregistered micro, village level food suppliers, and urban restaurants, street-side small hotels and bakeries. The Ministry's efforts will be relevant to all of them."

Caption
Industry and Commerce Minister Rishad Bathiudeen inspects agri-produce on display. Pic by Kithsiri de Mel