---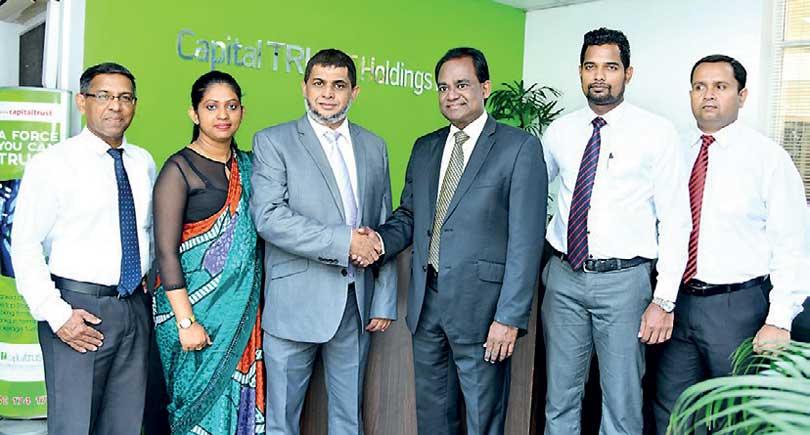 From left: Susantha Bandara - Head of Drivers , Dilusha Muthugoda - Head of Operations, Hanif Ibrahim - Chairman/ MD of Airport Travels Holdings , Tushan Wickramasinghe - Chairman/ CEO of Capital TRUST Mobility Solutions (Pvt) Ltd, Rasika Vidanalage - Chief Operating Officer and Asanka Perera - Head of Marketing & Corporates
Capital TRUST Mobility Solutions (Pvt) Ltd, a subsidiary of Capital TRUST Holdings Limited is launching Taxiya, a mobile taxi hailing service.

Focusing on safety, reliability, customer convenience and enhanced benefits to the drivers, Taxiya is set to zoom into the future of Sri Lanka's organized Taxi service industry.
Taxiyak was already a player in the taxi service industry in Sri Lanka and has experienced the market for a couple of years. The company has revamped its robust front end and backend IT systems to ensure a seamless customer booking and payment experience across the TaxiyaApp, website and call center with user friendlytri-lingual capability.

Now acquired by Capital TRUST Mobility Solutions (Pvt) Ltd, it has been rebranded as Taxiya.
Taxiya, as the name implies is a truly Sri Lankan product, slated to be the most affordable transport solution ensuring an increased driver-focus in terms of fees and overall benefits. A two-wheeler (motorbike) service will be offered for the first time in the country, to navigate congested traffic situations, particularly at peak times.

Rapid expansion plans are afoot to change the nation's taxi service landscape including scaling up Taxiya's vehicle fleet to become a fully customer-centric transportation services provider by delivering a top-notch customer experience with fare options and special deals.

Rooted in Taxiya's ethos is driver support, training and assistance and to this end the company will offer attractive incentives and financial assistance plus a solid focus on comprehensive driver training and skill development to ensure long term driver loyalty. Taxiya drivers will be handpicked and trained, particularly in manners and professional etiquette.
New features that will differentiate Taxiya will focus on customer safety, simplified vacation planning via the App, and airport transfers with the most affordable rates, to mention a few. The Automated Corporate Transport Booking System (ACTBS) will enable companies to organize their employees' transport, allocate transport budgets, and seamlessly book and dispatch vehicles on demand.

Tushan Wickramasinghe, Chairman of Capital TRUST Mobility Solutions (Pvt) Ltd, and Chairman/CEO of Capital TRUST Holdings Limited, sees exciting opportunities in the taxi hailing services market.

"With over 1.1 million three wheelers, over 4.0 million motorcycles, over 0.7 million four-wheel vehicles in Sri Lanka and less than 50,000 active vehicles with apps on a daily basis, there is immense room for expansion and exponential growth," stated Wickramasinghe.

"Using public transport is highly stressful and we want Taxiya, the 100 percent Sri Lankan built platform to be associated with affording the customer absolute peace of mind. Taxiya's offering will be a competitively priced, safe, reliable and hassle-free ride of choice," he announced.

Wickramasinghe added that he was also happy to support and strengthen digital entrepreneurship. Hanif Ibrahim, Managing Director of Airport Travel Holdings said he is delighted to share IT support and guidance to a strong and reputed entrepreneurial company such as Capital TRUST Holdings Limited. Airport Travel Holdings has been in the taxi space for the past 20 years.