---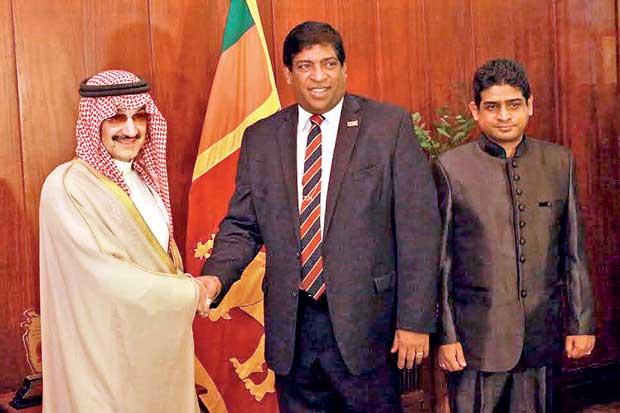 From left: Prince Alwaleed Bin Talal, Foreign Minister Ravi Karunanayake and State Minister of Foreign Affairs Wasantha Senanayake
A special meeting was held between Prince Alwaleed Bin Talal Abdulaziz Al Saud of Saudi Arabia and Foreign Minister Ravi Karunanayake yesterday afternoon. The Saudi prince was in Sri Lanka on an official visit. The delegation led by Prince Alwaleed Bin Talal arrived in Sri Lanka on an official invitation extended to him by Foreign Minister Ravi Karunanayake.
The Saudi delegation that comprised of 11 members held half an hour discussion with the Foreign Minister and, attention was drawn to further strengthen the bilateral ties between Saudi Arabia and Sri Lanka.
The Saudi Prince who praised the current economic development in Sri Lanka said that special attention will be paid to investment opportunities in trade and tourism sectors in support of strengthening the economic development in Sri Lanka.
The Prince also said he expects to brief the Saudi government, investors and entrepreneurs towards business opportunities in Sri Lanka.
Responding to the visiting Saudi prince, Foreign Minister Ravi Karunanayake said the support extended to Sri Lanka by the government of Saud Arabia is always appreciated.
State Minister of Foreign Affairs Wasantha Senanayake and a group of ministry officials were also present.
Following the meeting with Foreign Minister Ravi Karunanayake, Prince Alwaleed Bin Talal met with President Maithripala Sirisena at the Presidential Secretariat.
Later, the visiting Saudi Prince and his delegation held discussions with Prime Minister Ranil Wickremesinghe at the Parliament complex.