---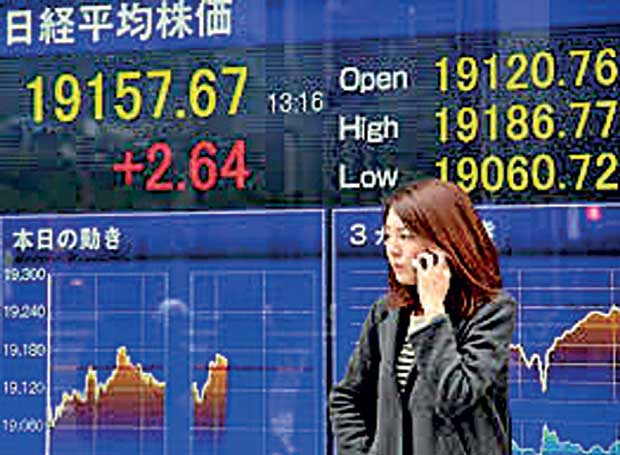 Asian markets ended the week on a positive note following the lead from Wall Street, with energy firms lifted by a rally in
oil prices.

While the volatility that greeted the start of February has subsided for now, traders continue to fret over the prospect that US borrowing costs are likely to rise further as the world's top economy powers ahead.

"Investors are just nervous about interest rates," Paul Nolte, a portfolio manager at Kingsview Asset Management in Chicago, told Bloomberg News.

"Everybody is waiting for more economic data to confirm or deny whatever the Fed position is. It's a big case of the nerves."
Most equities in Asia sank on Thursday after the Fed released minutes pointing towards a number of rate hikes this year owing to an expected surge in inflation as Donald Trump's tax cuts kick in and economic growth improves.

However, a bounce-back was seen yesterday as investors tracked their New York counterparts.

"The minutes were far more balanced than the equity market sell-off suggested," said Stephen Innes, head of Asia-Pacific trading at OANDA.
"The discussions about their inflation target being symmetric indicate that the Feds are less concerned about the updraft from inflationary pressures than current market pricing."

Tokyo ended 0.7 percent higher, helped by a weaker yen. Hong Kong climbed one percent, Shanghai added 0.6 percent and Sydney put on 0.8 percent. Seoul and Singapore each jumped 1.5 percent, while Wellington, Taipei and Jakarta were also well in the green.
Energy firms across the region were higher, recovering some of Thursday's losses, after oil prices jumped on the back of data showing US stockpiles fell last week. Forecasts had been for a rise.

The news sent crude sharply higher on Thursday as it eased worries about a pick-up in US production, which was threatening to negate the output cap by OPEC and Russia. Both main oil contracts continued to rise in Asia.

"The market's been concerned about US production ramping, so as long as you still have these healthy inventory reports, it helps ease some of the fears," Craig Bethune, a senior portfolio manager at Manulife Asset Management, said.

On forex markets the dollar climbed against the euro, recovering some losses after European Central Bank minutes showed a cautious move towards an exit from crisis-era stimulus.

The broadly positive sentiment also provided a platform for the greenback to rise against the yen, which is usually the go-to currency in times of turmoil.

In early European trade London and Paris each rose 0.1 percent, while Frankfurt put on 0.2 percent. (AFP)
---
Stocks end steady near 3-month high
REUTERS: Sri Lankan shares ended steady yesterday, near a more than three-month high hit early in the week, as investors picked up diversified shares.

Investor sentiment got a boost after two key parties decided to remain in the ruling coalition, allaying fears of a government collapse.

The Colombo stock index ended 0.06 percent firmer at 6,575.39, near its highest close since Nov. 6, 2017 hit on Wednesday. The index rose 0.18 percent during the week.

"We are seeing new buying coming into the market with the things settling down on the political front," said Dimantha Mathew, head of research, First Capital Holdings.

"The profit-taking we saw yesterday did not continue and the buying was more than the selling which is a good sign."

Turnover stood at Rs.813.6 million (US$5.25 million), less than this year's daily average of Rs.867.9 million.
Foreign investors sold a net Rs.16.9 million worth of shares, but they have been net buyers of Rs.6.4 billion worth of equities so far this year.
Shares in Melstacrop Plc rose 3.8 percent and conglomerate John Keells Holdings Plc ended 0.6 percent higher. Dialog Axiata Plc gained 0.7 percent.