---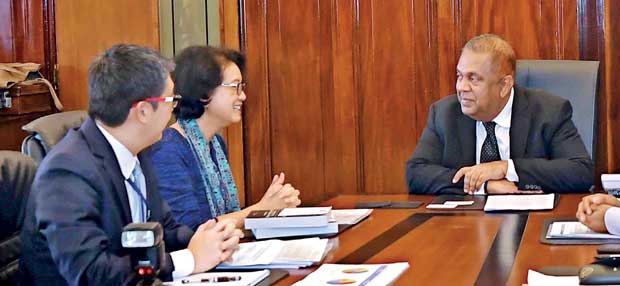 ADB Country Director Sri Widowati briefing Finance Minister Managala Samaraweera of the changes that will take place this year
The Asian Development Bank (ADB) will be doubling its multi sectoral assistance to Sri Lanka up to US$ 1 billion from this year as a result of the merger of its two main windows of financing.
"With the proposal to double the ADB's assistance to Sri Lanka, the government has earmarked railways, ports and road development as potential sectors to be developed and have already commenced feasibility studies in those respective sectors," a communiqué from the Finance and Mass Media Ministry said.
Currently, the ADB provides around US$ 400-500 million in annual assistance for road development projects, enhancement of sanitation facilities, fisheries sector development, irrigation sector development as well as skills and educational sector development projects
All loan facilities by the ADB come with a five-year grace period. There are 24 ongoing projects implemented throughout the country with ADB funding.
ADB Country Director Sri Widowati briefed Finance and Mass Media Minister Managala Samaraweera of the changes that will take place this year, as well as the ADB's past development activities in Sri Lanka.
"Minister Samaraweera extended his appreciation to the Asian Development Bank for extending multi-sectoral assistance in various fields that brings direct dividends to the general public and further discussed the new country partnership strategy for Sri Lanka for the period from year 2018-2022," the communiqué said.