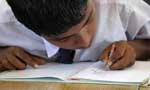 An inquiry would be carried out into an incident at the Presbyterian Girls' National School, Dehiwela, in which an invigilator of the Examination Department had distributed the 2nd paper of the Grade Five Scholarship Examination instead of the 1st paper, the Examinations Department said today.
Examinations Commissioner W.M.N.J. Pushpakumara said the carelessness of the invigilator had caused the incident.
"If it was proven the act had caused adverse effects to the candidates, the department will take necessary action," he said.
According to the Ceylon Teachers Union sources, a disorderly situation had taken place in Presbyterian Girls' National School after the mistake of the paper took place.
CTU President Joseph Stalin said that action was taken to rectify the mistake and take back the papers from the children after fifteen minutes of the wrong paper being distributed.
However, he said that no candidates of the centre were allowed to leave the exam hall during the time confusion.
(Piyumi Fonseka)