---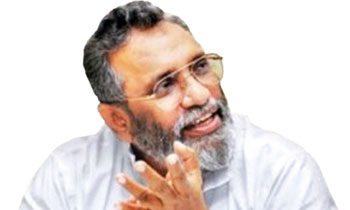 Elections Commission Mahinda Desapriya said the 25 per cent woman representation could not be maintained in at least ten local government bodies because of a lacuna in the Local Authorities' Elections Act.
Though the Act stipulates that each of the councils should be made up of 25 per cent woman representatives, the parties that contested the polls in these ten local bodies appear to have found it difficult to nominate women candidates.
The Act states, "Notwithstanding any provision to the contrary in this Ordinance, not less than twenty five per centum of the total number of members in each local authority shall be women members,"
The Act provides for the election of 60 per cent of the representatives for electoral wards and the remaining 40 per cent on the proportional representation system and that of the total number of members to be elected to a local authority, 25 per cent should be woman.
In the event of a party having only male candidates elected in terms of the electoral wards, it should reserve some slots for woman representatives from the list to be nominated under the PR system.
However, there are instances where the parties and independent groups were not entitled to any representation under the PR system. This has happened in the local government areas where a particular party concerned has won all the electoral wards. Also, the parties, with than three members elected, are not required to nominate women from the list.
Mr. Deshapriya said 25 per cent women representation could not be ensured at all for ten local authorities in the North and East.
"We will gazette the list of candidates assigned to each party this week. We will try to ensure woman representation as much as possible. Otherwise, there is nothing we can do," he said. (Kelum Bandara)