---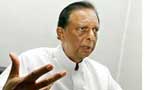 Former minister John Amarathunga said the government will be compelled to hand over former chief international arms procurer for the LTTE leader Kumaran Pathmanathan if India wanted him in connection with the killing of former Indian Prime Minister Rajiv Gandhi.
In a statement made to our sister paper "Lankadeepa", Mr. Amarathunga said it had now been revealed that all evidence against Kumaran Pathmanathan who provided the funds to the LTTE and nourished it had been completely destroyed during the Rajapaksa regime.
Under these circumstances it had become impossible for the Attorney General to file a case against him, he said.
Although evidence against Pathmanathan had been destroyed in Sri Lanka he was the only suspect living now in the case of Rajiv Gandhi murder, he said.
All other important suspects in the Rajiv Gandhi murder case namely LTTE leader Velupillai Prabhakaran, the outfit's Political Leader Thamilselvan and Intelligence Wing Leader Pottu Amman are all dead now.
(Anjula Mahika Weerarathna)