---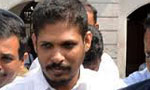 Commissioner General of Prisons Rohana Pushpakumara said today that Gampola Vidanage Samantha Kumara alias Wele Suda who was sentenced to death by Colombo High Court Judge Preethi Padman Surasena on October 14 on charges of possessing of 7.05 grams of heroin will be detained at the Welikada Prison due to security reasons.
He said that there were several ongoing cases against Wele Suda in Courts and therefore he should be produced in Court at least twice a month.
"There is a court case against Wele Suda on October 30 in the Colombo High Court. We cannot take a risk while been transporting him from Bogambara prisons to Colombo. Transporting frequently all the way from Bogambara could pose a threat to his life. So we decided to detain him at the Welikada Prison," he said.
The Commissioner General said it was still a risk to detain Wele Suda in Welikada because of his henchmen's presence.
He said Wele Suda is being currently detained separately in the cells allocated to prisoners who are serving death sentence at the Welikada Prison.
(Darshana Sanjeewa)