---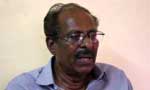 TNA MP Mavai Senathirajah said today that his party would be compelled to form a separate Tamil State with the help of the international community if any party resolved to form a Sinhala dominated state.
He said so in Parliament in response to a comment by MP Wimal Weerawansa that people should come together to safeguard the Sinhala identity and the sovereignty of the state.
"Statements such as these will push the Tamils towards separatism," said Mr. Senathirajah.
He said the TNA was not satisfied with the OHCHR resolution which came out recently.
However his fellow party member MP M A. Sumanthiran said his party would help the government to work on the resolution. "We will wait and see what the government does about it," he said.
(Yohan Perera)