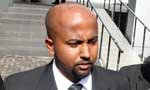 Attorney-at-law Udul Premaratne today appeared at the Sri Lanka Human Rights Commission (SLHRC), to forward a petition on behalf of Dunesh Priyashantha, alias 'Kondaya' against alleged abuse and the recording of a false statement by the Criminal Investigation Division (CID).
Mr. Premaratne said by virtue of the fact that the Minuwangoda Magistrate decided to release Dunesh Priyashantha on Monday in connection with the murder of the four and a half year old girl in Kotadeniyawa, it meant that the statement that had been obtained by the CID on the 23rd of September, after the arrest on the 13th of September, was coerced.
The statement that had been recorded by the CID was a detailed and illustrated version of the events that had unfolded on the night of the 12th of September 2015, Premaratne stated. "However if he had been released in connection with the rape and murder since his DNA did not match the samples obtained from the crime scene then the authenticity of the confession he had purportedly given is questionable."
Mr. Premaratne raised the question as to how the suspect could have said such a descriptive lie, including the detailed events before the crime was committed. "such details could only be known by the CID themselves".
"The CID should be responsible for the statement allegedly given by Dunesh" Mr. Premaratne said.
He also stated that Dunesh Priyashantha had been assaulted for three days, after which he had been asked to sign the confession and upon refusing to do so he had been assaulted again.
Premaratne further cautioned that this could happen to anyone and there was no protection of the law could have given to Dunesh Priyashantha since throughout the proceedings he had been with the CID.
"Such a man like Dunesh who had his education only up to Grade 5 wouldn't have the knowledge to demand his rights after being threatened with death".
He concluded that Dunesh Priyashantha had agreed to appear before the Commission at a later date and his team of lawyers were going to proceed with all available legal remedies including filing a fundamental rights case against the CID before the Supreme Court against the assault and the obtaining of false statements.
(Rashmin Tirimanne De Silva)