---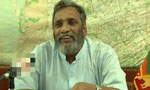 Elections Commissioner Mahinda Deshapriya has sent out instructions to all local government institutions to remove cut-outs and banners put up in connection with the forthcoming presidential elections.
Even though the power to remove these would be vested with him only after the handing over of the nomination papers, on December 8, the Elections Commissioner has instructed the local government authorities to remove them.
The commissioner had also given instructions to the Colombo Municipal Council to remove election related posters and cut-outs.
He had said that the local government regulations gave the police power to remove them and they should act accordingly.
Colombo Mayor A.J.M. Muzammil said yesterday that he had given instructions to the officials concerned to remove them before December 6. More than 1800 hoardings depicting the president are exhibited within Colombo Municipal Limits. Several election monitoring groups hadexpressed their displeasure over, and complaints had been made to the elections commissioner as well.
Meanwhile the BASL has asked the mayor to remove these cut-outs or face legal action. (Ajantha Kumara Agalakada)