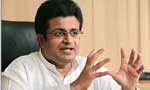 The United People Freedom Alliance (UPFA) will not be dissolved for at least five more years despite reports to the contrary, Pivithuru Hela Urumaya (PHU) General Secretary Udaya Gammanpila said today.
"The UPFA cannot be dissolved for another five years. The elections commissioner will deal only with the UPFA secretary when making decisions on newly elected 95 MPs or about 300 members of the party in local government bodies. When there is a vacancy in elected positions, the commissioner will consult the party secretary. Therefore, the party should keep functioning," he told a news conference held at Abhayaramaya in Colombo.
He said there were attempts by some elements to invade the party and said the finalizing of the UPFA national list even without convening the party executive committee was such an attempt.
Meanwhile, National Freedom Front (NFF) Leader Wimal Weerawansa said the UPFA national list had become a sanctuary of political refugees. He said a national list should not be converted into an orphanage of politicians like the Pinnawala Elephant Orphanage.
"The people are rejecting the UPFA national list with disgust. None of the politicians who represent left politics including D.E.W. Gunasekara had been given opportunity to represent parliament from the list. We regret that the makers of the UPFA national list had stooped to this level," he said.
Democratic Left Front (DLF) Leader Vasudeva Nanayakkara said there was no ethical right for parliamentarians elected from the UPFA to join hands with the United National Party (UNP). "We will oppose the UNP and its pro-imperialist moves," he said.
(Lahiru Pothmulla)