---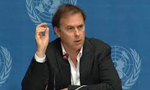 U.N. human rights spokesman Rupert Colville had said Sri Lanka was attempting to 'sabotage' the UNHRC inquiry and it raises questions about the government's integrity and are an affront to the U.N. body that mandated the inquiry.

Colville told a regular U.N. briefing in Geneva that Sri Lanka was refusing to cooperate with an inquiry to investigate war crimes allegedly committed by both Sri Lankan state forces and Tamil rebels during their conflict, and had intimidated witnesses who may wish to testify, the Reuters reported.

"Sri Lanka's government has refused point blank to cooperate with the investigation... (This) raises questions about the integrity of the government. Why would a government sabotage an independent investigation?" he said.