---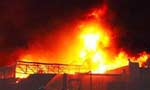 Two factories in Ja Ela and Kiribathgoda were gutted by fires last night that caused extensive damage to their property.

A fire broke out at the Nagindas Garment Factory in Ekala, Ja Ela at around 7.30pm yesterday. It was brought under control within a couple of hours by the Fire Brigade with the help of the people in the area.

The cause of the fire was yet to be ascertained and no casualties were reported, the Police Media Unit said.

Meanwhile, a plastic goods manufacturing plant in Wedikanda in Kiribathgoda was also gutted by fire.

Several fire engines were dispatched by the Colombo Fire Brigade, and the firemen are engaged in fighting the fire at the moment.
One death had been reported.