---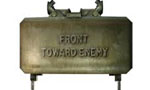 The two locally made claymore mines discovered yesterday at a cemetery in Bamunuwa, Nittambuwa would be defused by the Special Task Force today on a court order, Police said.

They said the two bombs had been abandoned in the cemetery when it was discovered by the police upon information received by some cattle herders.

"The bombs weighing 10 kgs had not been set up but abandoned," the Police said.