---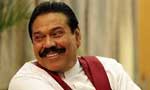 Former president Mahinda Rajapaksa yesterday expressed his confidence that the new parliament would be a success
"I think the new parliament will be successful with young blood and a number of new young MPs," he said speaking to journalists at the end of the inaugural sessions of the 8th parliament last evening.
Asked about his opinion of the national government, he said in a lighter vein that it was good. "National government is good," he said in a jovial manner.
However he said that there should be a powerful opposition as well. He ruled out his becoming the leader of the opposition in response to another question by the journalists. "I have already informed the opposition members that I will not accept the opposition leader's post -- and I will not," he said.
(Yohan Perera and Kelum Bandara)