---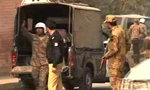 Six terrorists of the Tehreek-e-Taliban Pakistan stormed Peshawar's Army Public School & College on Tuesday morning killing 17 students and a teacher.
Nearly 40 others have suffered injuries. About 500 students and teachers are believed to have been taken hostage by the terrorists.

The terror group claimed that all the terrorists are on a suicide mission. "They include target killers and suicide attackers. They have been ordered to shoot the older students but not the children," said TTP spokesperson Muhammad Khorasani.

Pakistani security forces have cordoned off the school and gunbattle is on with the terrorists.

Pakistan Prime Minister Nawaz Sharif directed all civil and military security agencies to rescue everyone from the school safely.

Eyewitnesses say the armed gunmen entered classes and started firing indiscriminately. According to reports, security personnel have been able to rescue four children.

One of the students who managed to escape from the school told reporters, "We heard gunshots, teacher asked us not to be afraid as it was regular drills. But then we heard more firing and an Army man came and told us that around 7-8 terrorists have attacked us. We were rescued from the back gate."(IBN live)