---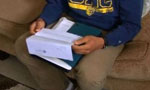 A Sri Lankan national wanted in India for allegedly plotting terror strikes at American and Israeli consulates in the country has been deported by Malaysia to the island nation notwithstanding India's plea for his extradition to unravel key aspects of the conspiracy.
Highly-placed sources here said that 47-year-old Mohammed Hussain Mohammed Sulaiman was recently sent back to Sri Lanka by Malaysian authorities without even executing a production warrant issued by a special court in India seeking his extradition.
Sulaiman was deported to Sri Lanka to face murder charges there with Malaysia ignoring repeated requests by India under various treaties, including Mutual Legal Assistance Treaty (MLAT) and even those submitted through Interpol.
A production warrant for Sulaiman was also issued and sent through the diplomatic channel for early execution so that the planning behind the botched terror plot could be unravelled. However, the attorney general's office in Malaysia did not proceed with the Indian production warrant and instead suggested to its government that it deport Sulaiman to Sri Lanka where he is allegedly facing charges in a murder case. (PTI)