---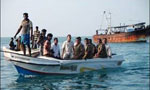 The Fisheries and Aquatic Resources Development Ministry today denied the existence of an agreement with Indian fishermen to allow them to fish in Sri Lankan waters for 83 days of the year for the next three years.
Several proposals had been made by the Indian fishing community asking for permission to fish in the Sri Lankan waters but the Ministry said it had not agreed to any such agreement.
Meanwhile Indian media reported that the third round of talks between representatives of Tamil Nadu fishermen and Sri Lanka ended in Chennai on Tuesday, a day ahead of schedule, with the two sides meeting each other half way.
The talks that went on for more than eight hours and is reported to have made significant progress on many longstanding issues, the Indian media said.
(Chaturanga Pradeep)