---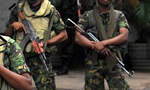 A 24-year-old police constable attached to the Kotapola STF Camp in Deniyaya was killed last night when the weapon of a fellow constable had misfired, the Police said.

The tragedy occurred when they were on duty at a STF security post near the camp.

Deniyaya Police said they were carrying out investigations to determine how it could have happened.