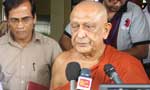 The Ven. Maduluwave Sobitha Thera, who heads the Movement for a Just Society, today met Elections Commissioner Mahinda Deshapriya and encouraged him to keep up the good work he was doing in making sure that this election was free and fair.
He told journalists after meeting Mr. Deshapriya that the elections commissioner had to be consistent when handling the complaints he receives of election law violations.
The Thera said he made several complaints against certain candidates though he would not disclose any of the details nor their names.
He said the instructions issued by the polls chief to the state electronic media not to repeat telecast the letter sent by President Maithripala Sirisena to ex-president Mahinda Rajapaksa was commendable.
Meanwhile, the Thera urged voters to carry out an unprecedented revolution so that Sri Lanka could enact a new constitution, a Right to Information Act, a National Audit Amendment Act and Electoral Reforms through the 20th Amendment.
"Let August 17 be the beginning of a new journey for Sri Lanka with a new political culture pervading the country," the thera told those who were outside the Elections Department.
The discussion between the monk and the elections chief lasted for an hour.
(Yohan Perera and Darshana Sanjeewa)