---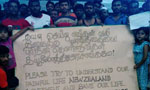 Sri Lankan, Bangladeshi and Myanmar refugees ended up shipwrecked on an Indonesian reef earlier this week said that they were heading for New Zealand.


In a letter seen by Radio New Zealand, the refugees had made a collective plea to the New Zealand Government for asylum, saying it was unsafe for them to return home.

Radio New Zealand has made attempts to verify the letter, which bears the signatures of 65 people.

Nazmul Hassan, who identifies himself as one of the 65 in a Kupang detention centre, said they just wanted a peaceful life. "We leave our country because of some problems and political violence and too many problems. We are really in trouble and under pressure now."

He said they were all confined to one room at the centre in West Timor and that the group was mentally and physically exhausted.

Meanwhile,

New Zealand

Immigration Minister Michael Woodhouse said he had not received any requests for help.