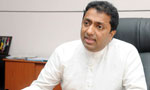 The United National Party (UNP) said today it was certain to obtain almost six million votes at the general elections similar to the January 8 presidential election where the UNP and the common opposition were able to muster the most number of votes for the then opposition candidate.
UNP Media Spokesman Akila Viraj Kariyawasam told a media conference held at the UNP headquarters Sirikotha that the people voted not only for President Maithripala Sirisena as the common opposition candidate but also for the UNP.
"Excluding those who voted on behalf of the TNA, the JVP and the JHU, the rest of the votes were on behalf of the UNP. We are not expecting a new mandate from the people at the next general election but only a re-confirmation of the votes obtained at the January 8 presidential election," Mr. Kariyawasam said.
"The UNP is well-known in the annals of Sri Lanka's political history as the only party with a flexible and disciplined administration that has not shied away from facing the many arrows shot at it by its ill-meaning opponents. These bitter experiences have motivated party members to strive hard towards achieving a definitive victory and the forming of a UNP-led government," he said.
Speaking on the 20th Amendment, UNP MP and Minister P. Harrison said even though the Opposition claimed that the UNP had no clear stance on it, the UNP MPs would vote in favour of 20A and extend their fullest support for its successful passage in parliament.
He said the reason behind the accidentally appointed opposition leader Nimal Siripala de Silva's behaviour is obvious because those who say they are from the SLFP or the UPFA are afraid the UNP's certain victory at the general election.
"The so-called Opposition Leader Nimal Siripala is suffering from 'asai bayai' symptoms on 20A. He may be wanting to support 20A, but afraid of people's positive response towards the UNP after it is passed. People will trust because even as a minority government we fulfilled the pledges given to the people," he said.
(Piyumi Fonseka)