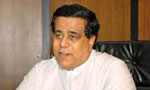 Opposition Leader Nimal Siripala de Silva today rejected government allegations that some of the opposition members had not signed the no-confidence motion against Prime Minister Ranil Wickremesinghe.
He challenged the government to debate the no-confidence motion and defeat it if the government was confident that some of the 112 signatures were fraudulent.
"If the government thinks that we don't have the required numbers to pass the no-confidence motion all it has to do is to table it in parliament and defeat it instead of threatening to dissolve the government," Mr. de Silva said.
He said the opposition was keen to take up the no confidence motion against Finance Minister Ravi Karunanayaka on priority basis. Party leaders are expected to decide on the date and time to take up the no-confidence motion against Mr. Karunanayaka today.
Referring to rumours that 35 members who signed the no-confidence motion had decided to withdraw their signatures through affidavits, he said none of them would be able to face the voters at the forthcoming general election and their defeat was certain if they did so.
Mr. de Silva told the media that certain political parties which are afraid of electoral reforms were sabotaging the efforts of the President Maithripala Sirisena and the SLFP to pass the 20th Amendment to the Constitution while pretending to support it in public.
"The electoral reforms was a pledge given by President Sirisena under his 100-day programme. Therefore, it is the responsibility of the President, the UNP and the JVP to get it approved in parliament before the next elections," he said.
The SLFP expects the cabinet to approve 20A at the special cabinet meeting and submit it to the Supreme Court this week so that it can be presented in parliament on June 23.
"The 20A can be debated and approved by the end of the month if the political parties support it. If they need to introduce changes it can be done at the committee stage.
Quoting a newspaper report that Sri Lanka had 200 political prisoners, Mr. de Silva said not only the government but the global community has admitted what the previous government maintained from the very beginning that Sri Lanka did not have thousands of political prisoners as suggested by anti Sri Lanka elements.
He said the government was using state funds for election propaganda and added the overtime for employees of the Water Supply and Drainage Board had been suspended and the savings used to give appointments to 800 new recruits recommended by UNP organisers and ministers.
With regard to a national government, Mr. de Silva said the SLFP-led UPFA would form the next government with an absolute majority and Mr. Premadasa and his boss Ranil Wickremesinghe will have to keep their new suits in the wardrobe because they would be back in the opposition once again.
(Sandun A Jayasekera)