---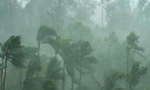 The Meteorological Department this morning issued a severe weather advisory with strong winds exceeding 70 Km per hour and heavy rains for the next 24 hours.
It said heavy showers exceeding 100mm could be expected in the Northern, North-central, Eastern, Uva and Central provinces.
Department said the wind speed could be increased up to 70 Km per hour.
"The prevailing showery weather will continue over the Northern and Eastern parts of the country. There will be showers in the morning and thunder showers during the afternoon and night," it said.
Intermittent showers or thundershowers are also expected in the deep and shallow sea areas off the Eastern and Southeastern coasts.