---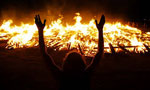 Forensic report in the context of the murder of 80 persons alleged to have committed by LTTE in the year 2006 in Mullaitheevu, Oddusuddan, Inthimadu and Samalankulam areas reveal that diesel and kerosene oil had been used to burn the dead bodies.
"We were able to gather this information during our investigations in Inthimadu area on Tuesday (02)" said the Forensic Experts.
They continued their investigations in Samalankulam on Wednesday (03) after the Sri Lanka Army Demining Team confirmed that there was no danger of landmines in the area.
The first incident was when thirty persons including the OIC Mount Lavinia Police Jeyaratnam and Military Officer Lucky were taken to Inthimadu area were murdered and their bodies burnt.
LTTE militants in government detention had told the investigation officers of the Prevention of Terrorism Unit that a further 50 persons transported in buses and lorries were killed and set on fire.
Accordingly, a lawsuit was filed in Magistrate Courts Kilinochchi and investigations were initiated. At the first stage of the hearing the Kilinochchi Magistrate M.I Wahabdeen inspected the site of the killing.
Forensic research had been carried out by Prevention of Terrorism Unit, Forensic Experts, Archaeologists, Surveyors, Department of Criminology, Government Analyst's Department and undergraduates from Sri Jayewardenepura and Rajararata universities.
Forensic research and investigations would be held for 5 days. It has been said that those killed were imprisoned in Alpha 5 and Alpha 2 detention camps maintained by the LTTE. (M. Roshanth)